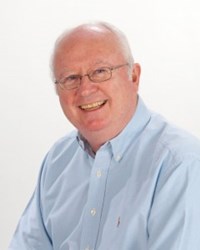 "Malcolm is an industry luminary," said Vance Brown, CEO of Cherwell Software.
(PRWEB) August 31, 2013
Malcolm will provide speaking, writing, and consultancy services to various areas of the Cherwell Software business. Most importantly, he will help Cherwell Software serve the ITSM practitioner community with training, thought leadership and other practical tools for increasing quality of service delivery. Malcolm was a member of the ITIL Advisory Group (IAG), which was responsible for overseeing the development and publishing of ITIL v3. Plus, he was a mentor for the "Service Transition" book. In 2009 Malcolm was awarded the coveted Ron Muns Lifetime Achievement Award for his work in the IT service management arena.
"We recognize that Malcolm is an industry luminary," said Vance Brown, CEO of Cherwell Software. "His passion for the service management space complements our own commitment, and teaming up with him will help Cherwell Software achieve great outcomes for many years to come."
About the agreement Malcolm Fry commented, "I view this partnership as a great opportunity for me to represent one of the most exciting and honorable organizations in our business. It's a brilliant chance for me to work with a team for the purpose of expressing a lot of my ideas, harnessing my knowledge and experience to provide IT practitioners help and insight into improving services across the organization."
Malcolm Fry, is a recognized IT industry luminary with over 40 years of experience in information technology. Malcolm is the author of many bestselling books on IT service management and has had numerous articles and papers published. He is regularly used as a source of information by technology journalists. He is also the solo performer in a highly successful bestselling DVD series made for the HDI, formerly Help Desk Institute, explaining the relationship between the ITIL processes and the service desk. He has written six ITIL focus booklets, of which over 100,000 copies are now in circulation. His previous publications include being architect and chief author for the publication "A Step-by-Step Guide to Building a CMDB," published by BMC, and "How to Build an ITIL Service Management Department," while his latest publication "ITIL Lite" was released early in 2010 and has since been updated for the refreshed version of ITIL. In 2009 Malcolm wrote, on behalf of CA Technologies, a booklet exploring the role of lean computing in service management.
Malcolm began his IT career in 1967 working for a major bank in London. In the following 13 years, he performed many IT functions including system programming and a variety of management roles. During the same period, Malcolm worked in a number of industries including retail, production, oil and pharmaceuticals. This experience, coupled with his impressive technical background, gives Malcolm an unparalleled breadth of knowledge and experience.
Malcolm began his independent career in 1980 and, since that time, Malcolm has not only pursued a solo career, but has also been on the boards of various organizations, including Protocol International Limited and HDI's Strategic Advisory Board. He was on the ITIL Advisory Group, helping to guide the development of ITIL v3 and was a mentor for one of the books. During his long and diverse career, Malcolm has worked in more than forty countries, lectured to countless people, and is in constant demand worldwide as a dynamic, entertaining and knowledgeable speaker.
About Cherwell Software
Cherwell Software is one of the fastest growing IT service management software providers with offices in Colorado Springs, Colo., U.S.A.; Wootton Bassett, U.K.; and a global network of expert partners. Cherwell Software is passionate about customer care and is dedicated to creating "innovative technology built upon yesterday values." Its award-winning flagship product, Cherwell Service Management (CSM) provides out-of-the-box ITIL processes, a self-service portal, and unmatched flexibility in hosting and licensing. For more information, visit http://www.cherwell.com.