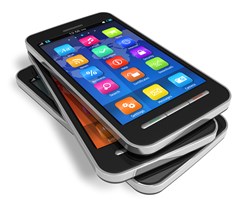 We are working with Mercia Fund Management as they are trusted advisors that bring both funding and added value, in terms of feedback on our strategy and crucial contacts within our industry.
(PRWEB UK) 30 August 2013
Smart Antenna Technologies (SAT) has announced the launch of its innovative single-antenna technology for mobile devices. The technology will enable smartphone and tablet device manufacturers to replace several antennae with a single multi-band antenna, the performance of which will match that of the separate antennae at their specified frequencies.
Currently mobile devices require a separate antenna to support each communication technology such as Bluetooth, WiFi, GPS, GSM and 3G/4G. 4G phones are expected to have up to six narrow band antennae operating on individual band segments. This is highly inefficient in terms of cost and space occupied in the device.
SAT's technology has emerged from research by Professor Peter Hall, one of the leading experts in radio antenna technology, and his team at The University of Birmingham. The patented solution uses a novel foil or printable antenna and control chip to produce a compact multi-frequency antenna.
SAT's single antenna solution is expected to ultimately cost a few dollars per handset compared to US $20 per handset for existing antennas. Additionally, SAT uses software re-configurable hardware enabling manufacturers to produce one device for all territories, reduce costs and streamline manufacturing & logistics. SAT's technology has already generated interest from its target customers, including include cellular handset and chipset manufacturers.
This technology delivers major benefits on every critical constraint for handset manufacturers, including cost, design flexibility, space, single product for multiple territories and extended battery life. It is also fully complementary to existing RF solutions being used by the mobile phone industry and emerging products such as Qualcomm's RF360 technology.
Having won both Cambridge Wireless 'Discovering Start-ups' competition in 2012 and the Enterprising Birmingham Innovation Competition 2013 the SAT team has been working with Venture Capital company, Mercia Fund Management (MFM), to secure its first investment, a Seed Enterprise Investment Scheme round, and will be shortly completing a further syndicated round lead by Mercia. Funding will be used to produce the first product and customer deployment.
The company is led by Chairman Colin Tucker a global leader in the mobile industry having previously been the CTO and COO of Orange, the Founder & CEO of 3 in the UK before becoming Deputy Chairman of Hutchison 3G. CEO Professor Rick Hillum is heading up the venture - he is an experienced entrepreneur who has successfully led a number of start-ups in this space including Camitri Technologies, Software Radio Technology, Securicor Wireless Technologies, Intek Global Technologies, and Linear Modulation Technology.
Rick Hillum, CEO of SAT, comments: "As handset manufacturers are rolling out devices more frequently, they are looking to differentiate and this is where our antenna will reduce cost and produce less variants. Consumers also want the ability to use their mobile device as widely as possible, and our antenna provides uninterrupted service between various communications technologies. We are currently in discussions with several of the leading mobile device manufacturers and chip set suppliers and are on course to produce our first antenna later this year."
"We are working with Mercia Fund Management as they are trusted advisors that bring both funding and added value, in terms of feedback on our strategy and crucial contacts within our industry," he concluded.
Everard Mascarenhas of Mercia Fund Management added: "We are extremely excited about the prospects of this world-beating technology. Currently 1.2 billion phones are manufactured each year; SAT's technology has the potential to deliver a 10% - 20% reduction in the Bill of Materials for each of these products. It is one of the very few technologies that ticks all the boxes for mobile phone manufacturers and it is not surprising that it is generating so much interest from handset manufacturers. Together with the management, we have taken world-class research from The University of Birmingham and created a company with a truly disruptive solution for smartphone and tablets which represent one of the fastest growing sectors in consumer electronics."
David Coleman, Head of Spinout Portfolio for the University of Birmingham, said "we are delighted to have spun out SAT from the University and completed on this investment with Mercia Fund Management. With such a great combination of commercial management, intellectual property, and supportive investors, SAT is really well placed to advance this concept into a market-ready product."
ENDs
About Smart Antenna Technologies
Smart Antenna Technologies (SAT) is a spinout company from the University of Birmingham. The team have designed, developed and patented a pioneering smart antenna technology. The market for this highly scalable technology is the global cellular handset market. SAT's remarkable innovation has led to the creation of a significant number of patent applications, both filed and in process.
Today, handset manufacturers are seeking an effective antenna solution suitable for implementing the next generation of cellular handset technologies, known as Long Term Evolution (4G LTE). Currently, they are unable to achieve physically the desired antenna performance in a size that fits a cellular handset package at an acceptable volume cost. Current implementations from the leading handset manufacturers employ typically six antennas. The highly compact SAT technology replaces all existing antennas—DVB-H, Bluetooth, Wi-Fi, GSM, GPS, 3G multi-bands and 3.9/4G LTE—with just one. This single SAT device provides significantly lower costs, is smaller in size and offers much needed performance gains over existing designs and technology.
http://www.smartantennatech.com
About Mercia Fund Management
Mercia Fund Management (MFM) is a venture capital fund manager with over £19 million under active management.
MFM provides investment growth capital for businesses ranging from early commercial traction through to those seeking expansion or working capital that are trading profitably. Furthermore, MFM can also provide cost-effective incubator accommodation at Forward House in Henley-in-Arden coupled with centralised support services in keeping with its model as a hands-on, supportive investor.
MFM is an FCA authorised and regulated fund manager under FSMA (FRN: 524856).
About The University of Birmingham
The University of Birmingham is a truly vibrant, global community and an internationally-renowned institution. Ranked amongst the world's top 100 institutions, its work brings people from across the world to Birmingham, including researchers and teachers and more than 4,000 international students from nearly 150 countries.
Alta Innovations Ltd is the University of Birmingham's technology transfer company and is responsible for the commercialisation of research undertaken at the University. Alta Innovations links academic research with business through licensing and spinout activity, collaborative research and consultancy projects to generate the new ideas, technologies and processes required to achieve competitive advantage.
http://www.birmingham.ac.uk/generic/alta-innovations/about/index.aspx