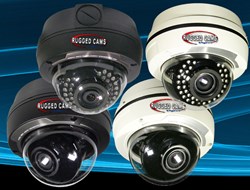 Kemp, TX (PRWEB) August 31, 2013
Weather can be harsh and unforgiving. Any equipment that has to stay out in the weather for an extended time is subject to everything Mother Nature can throw at it. This includes ice, snow, heat, rust, corrosion and dust. Rugged Cams, a Manufacturer of tough, rugged security cameras and equipment, is the industry leader when it comes to equipment that can not only endure the extremes of weather, but actually thrive in it.
This has prompted Rugged Cams to come up with a new camera model known as the HD Dome Camera.
The Sentry-HD and the Sentry-HD/IR Dome Cameras are the most feature-rich dome cameras that Rugged Cams has ever offered. The housing are totally sealed, Heated for Cold Environments (to -40º below), carry a 3-Year Warranty, are Dual Voltage operated, and deliver flawless HD Video at 1080p in real time. No other Dome Cameras can offer so many advantages in a small, low cost package.
The Sentry-HD is a non-infrared Dome Camera that works well in indoor or outdoor areas that are lit and do not require any additional lighting from the camera. The Sentry-HD/IR is an Infrared Model that delivers Infrared Lighting when the available light falls below a certain threshold. This allows the camera to see flawlessly in bright daytime scenes or total darkness.
Rugged Cams has worked hard to shoe-horn a lot of technological breakthroughs into these revolutionary new Dome Cameras. The Cameras feature 1/3" Panasonic 2.2 Megapixel Progressive Scan, Varifocal Lenses that are 3.5mm to 16mm Megapixel Grade Lenses. Some of the other features include; Adaptive Contrast Enhancer, Digital Wide Dynamic Range, Digital Noise Reduction, On-Board Joystick Control, IP68 Sealed Waterproof/Weather proof, Optional Easy-Pro Wall Mount with attached swing-out Junction Box, and that is just the beginning of the extensive list of features that come standard on the Sentry line of security cameras.
With a 3-Year Warranty and Free Tech Support for Life, the HD Dome camera series is being praised by Installers and end users as well. Even better, the price is surprisingly affordable for a security camera of this caliber. As if to confirm their position as the best manufacturers of weather and waterproof cameras, Rugged Cams client list reads like a Who's Who of Fortune 500 companies, as well as Government and Military, such as; The United States Coast Guard, Seaport Electronics Inc., University of Delaware, US Department of Navy, McDonalds, Boeing and many others. Simply put, Rugged Cams engineers are at their best combining ingenuity, high-end customer care and long lasting products that are tops in the industry. Durability, functionality and cost effectiveness are the characteristics that govern the day to day operations at Rugged Cams.
***********
Since 1993, Rugged Cams has been manufacturing tough, rugged security cameras and equipment that is built to last. The company is located just outside Dallas, Texas, and is well known for its innovative, Patented products and security solutions.
For more information, you can visit http://www.ruggedcams.com/hd-sdi-sentry-dome-camera.shtml.