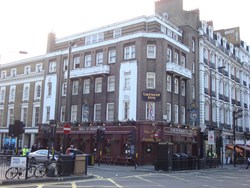 maintaining the information for the pub guide has been challenging as the pubs in London are often changing hands on an annual basis
London (PRWEB) August 30, 2013
The British pub guide Pub Rooms reviewed most of the pubs in London with B&B accommodation back in 2007 when the guide was redesigned.
Most of the pubs visited in London in 2007 are still open but have changed.
Such as the Blue Anchor by the Royal Courts. "With 6 years gone by the challenge for any guide is to keep up to date," says the manager of Pub Rooms Peter Jones.
He goes on to state that, "maintaining the information for the pub guide has been challenging as the pubs in London are often changing hands on an annual basis. Even the traditional pubs that have been around for centuries have to be modernised and this involves new management and services."
The pub accommodation sector has grown which was shown in the report Pub Rooms commissioned with Think Cloud Studio back in 2012.
Pubs like the Pride of Paddington that offer cheap accommodation in the West End for traveller would never have been considered before the recession, especially as it's practically next door to the largest hotel in Europe.