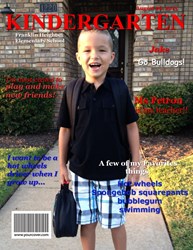 I have received many compliments about the cover as I have posted it on my personal Facebook page as well. Thanks for making your website so easy to use to allow me to create something fun to signify his big day. We will treasure it always.
Wilton, CT (PRWEB) August 31, 2013
Parents have long taken photos of their children as they head off to their very first day of school. One of the newer trends is that the child holds up a sign with their school grade and/or there is a sign nearby saying "first day of school". One of YourCover's customers came up with a great way to use those photos on a magazine cover to create a unique first day of school gift and keepsake.
Although the new school year has already begun in various parts of the country, others do not start until after the Labor Day holiday and some private schools do not begin until mid-September. Parents that are looking for a unique way to use their photos from the first day of school can take the lead of a YourCover customer who created a first day of school magazine cover starring her child.
Mandy of Texas used her son's photo and the blank magazine cover template (available in the YourCover magazine cover generator) to create a "Kindergarten" magazine cover as a first day of school gift and keepsake to celebrate and commemorate this milestone in her son's life.
Parents who would like to follow Mandy's lead should use the blank magazine cover template to create their own title or another choice is the "Scholar" magazine cover.
After choosing a template, a photo is uploaded and the headlines can be personalized. Using the YourCover magazine cover generator, each headline is customized to be all about the child starring on the front cover including their grade, the date, the name of their school, info about what they like, and what they are looking forward to in the coming school year.
YourCover magazine covers can be delivered instantly as an image file for self-printing (great for last minute gifts) or YourCover can print and frame the magazine cover and ship by FedEx or the USPS. YourCover has been providing unique magazine cover gifts since 2000.