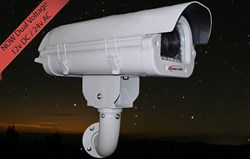 Kemp, TX (PRWEB) August 31, 2013
In the current depressed economy, crime and theft has risen to historic levels. No property or business is safe from vandals or thieves. Businesses are tackling the threat head-on, and have become very serious about protecting their property.
However, at many businesses and properties, the areas that require monitoring may be a good distance away, such as an entry gate or dumpster area. Rugged Cams has come up with a long distance Infrared HD Security Camera that makes the work of monitoring objects or areas that are far away a simple affair.
The IR 120 Magnum HD-SDI HD Security Camera is a WDR Ultra Long Range Infrared Security Camera with a 10-120mm Telephoto Lens. The Infrared LEDs can illuminate an area as far away as 150 feet. At the heart of the IR 120 Magnum HD-SDI is a 2.1 Mega Pixel, 1/3" Panasonic CMOS Sensor 1080p Resolution.
Many of the functions of the camera can be tailored to fit your situation, such as bright light masking, back-light compensation and many other options.
The same camera system as the IR120 MAGNUM HD-SDI HD Security Camera can also be used effectively as a License Plate Capture Camera and many Rugged Cams customers are using it for that purpose. The light sensor is located on the bottom of the housing to counteract the normal "glare" from license plates that can switch a normal camera into Day mode when the sensor is located on the front of the camera. Our newest version also includes a special WDR menu block and RS485 data control on the cable. This camera can be set in hundreds of different ways to get the best picture with the optimal settings for each location.
With a 3-Year Warranty and Free Tech Support for Life, the Long Distance Infrared HD Security Camera is a 'lifesaver' for the security professionals who can monitor and record every action that occurs on and off the property.
"This is a truly Long Range HD Camera, with Long Distance Infrareds and a 10-120mm Long Range Lens that allows a user to zoom in on distant gates, parking lots or any area that is more than 100' away," says Allen Spears, the Chief Engineer at Rugged Cams.
Rugged Cams serves a wide variety of clients, including; The United States Coast Guard, Seaport Electronics Inc., University of Delaware, US Department of Navy, McDonalds, Boeing and many others.
***********
Since 1993, Rugged Cams has been manufacturing tough, rugged security cameras and equipment that is built to last. The company is located just outside Dallas, Texas, and is well known for its innovative, Patented products and security solutions.
For more information, you can visit http://www.rugged-cctv.com/hd-security-camera.shtml