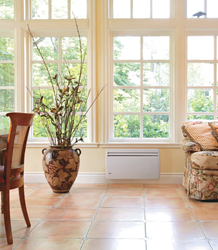 Convectair is a great option for homeowners and contractors that want a high quality product for supplemental space heating.
Fairview, OR (PRWEB) August 30, 2013
Convectair manufactures a diverse product line of electric room heaters. From replacing electric baseboard heaters to heating towels, Convectair heaters complete a household's heating needs. Convectair offers three separate heating technologies in their product line to create the ideal heater for any application. The heating types include convection, radiant and fan-forced. The experts at GP Conservation can help select the best Convectair heater depending on factors such as room size, feature requirements and electrical standards.
The Convectair Apero includes new added functionality of digital controls. The digital controls allow the homeowner to select the operating mode: comfort, economy, frost protection and program. The on/off switch is conveniently located on the side of the unit with a heating indicator light and a programmer indicator light.
Convectair Apero is a natural convection heater that uses a resistor to convert the electric energy into heat. The electricity activates an X-shaped heating element inside the heater. Cold air enters through the bottom of the heater and funnels over the heating element, causing the air to become warm. Then hot air exits the vent and is directed towards the center of the living space. Natural convection allows for the room to warm evenly without the assistance, or noise, from a fan. Another benefit of the Apero is the precise thermostat. This thermostat is sensitive to a fraction of a degree, so that it measures and maintains a consistent room temperature. Convectair Apero heaters are easy to install via a snap-on surface mount bracket that comes factory direct with every heater. The plug-in models are available with 120 Volts and hardwired heaters, require 240 Volts. For the hardwired heater, GP Conservation recommends installation by a licensed electrical contractor.
Convectair Soprano is the new Convectair fan-forced heater. They are ideal for small spaces that need to be heated quickly. Installation requires a timer that is compatible with the Convectair Soprano voltage. Bathrooms tend to require a lot of heat for only short periods of time, which makes them the perfect place for a Convectair Soprano heater. The 120 Volt Soprano model can easily be plugged directly into the wall socket, making it an excellent option for a bathroom, apartment or cottage.
GP Conservation features Convectair products because of their high quality features, such as sensitive thermostats that maintain the desired temperature. Convectair heaters uphold high levels of indoor air quality. They do not dry out the air because the heating element does not overheat and cause particles to burn in the air. The ambient air stays healthy with balanced humidity. Convectair convection and radiant heater models operate in complete silence. The homeowner will not hear the whir of a fan or sudden, loud noises resulting from heat changes. Convectair convection heaters bring comfort to the home because they provide better air distribution, which decreases temperature imbalances. Roch Naleway, General Manager of GP Conservation, comments on his experience with Convectair convector heaters, "Convectair is a great option for homeowners and contractors that want a high quality product for supplemental space heating. Convectair heaters are a great alternative for homeowners who are unhappy with classic electric baseboards."
Convectair includes a 2 year warranty against all defects and a 5 year warranty for the heating element. There is also a reliable Convectair technical team that can easily repair Convectair heating systems.
GP Conservation carries the full line of Convectair products. For more product information please call 503-907-2899 or visit gpconservation.com.
About GP Conservation
GP Conservation is an e-commerce retail website powered by Ecotone Products. We are a wholesale distributor of household appliances with a focus on energy and water conservation. The commitment to quality conservation products extends through our vast product line, which includes many energy conscious manufacturers. Ecotone Products provides quality product solutions and support that assists our customers in reaching their conservation goals.