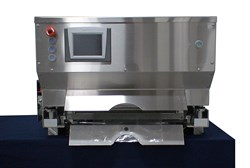 Homer, MI (PRWEB) August 30, 2013
Rennco announced today its new tube stock sealer for manufacturers and food processing companies requiring a cost-effective robust, compact bag making unit. Rennco will be exhibiting its new sealer at Pack Expo Las Vegas, September 23-25, in Booth C-2214.
Rennco's new stainless steel sealer makes empty three-sided bags from a variety of tube stock material at a lower cost than using pre-made bags. Bag materials effectively sealed include Poly, PVC, and Barrier films. The new sealer is offered in two models, a 20-inch version that converts bags 5 to 18 inches wide and a 32-inch model that converts bags 5 to 30 inches wide. Both models produce food quality bags up to 48 inches long.
The robust all stainless steel unit is easy to clean and maintain, making it an ideal sealer for any manufacturer or food processor that needs to make cost-effective, ready to load bags in a compact footprint.
About Rennco
Rennco, powered by Pro Mach, manufactures vertical packaging L-sealing equipment and automated packaging systems. For more than 40 years, companies have depended on Rennco solutions to package a wide variety of products in polyethylene, polyolefin and PVC bags. Rennco is a market leader in delivering innovative, reliable, cost-effective solutions for fully automated, semi-automatic and hand-loaded bagging operations. All Rennco products are designed and manufactured in Homer, Michigan. For more information about Rennco, visit http://www.Rennco.com.
About Pro Mach
Pro Mach is a leading provider of integrated packaging products and solutions for food, beverage, household goods, pharmaceutical, and other diverse consumer and industrial companies. Through multiple business units and related brands, Pro Mach provides equipment, installation, training, parts, and service in primary and secondary packaging, flexible packaging, end-of-line packaging, material handling, and identification and tracking.
Pro Mach has a diverse customer base, from Fortune 500 companies to smaller, privately-held businesses worldwide, which depend on reliable, flexible, technologically advanced packaging equipment and integrated solution sets. Pro Mach is headquartered near Cincinnati, Ohio with manufacturing facilities and offices throughout the United States and Canada. For more information about Pro Mach, visit our website at http://www.ProMachInc.com.