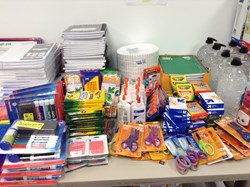 Dallas, TX (PRWEB) August 31, 2013
Prescott Pailet Benefits is known as a philanthropic company in the North Texas business community, especially because of its instated Volunteer Committee. The purpose of forming the Volunteer Committee was to appoint specific individuals who wanted to find and pursue the best volunteer opportunities for Prescott Pailet Benefits.
The Volunteer Committee's strategy is to positively affect several different populations in the Dallas community with planned events and activities. Past community efforts include donations to the military, sponsoring a family in need with Family Gateway and contributing to the TOMS One for One Movement.
This summer's Volunteer Committee activities were intended to help young North Texas students start the school year off right. "Jeans in July" allowed employees who donated $5 per week to wear jeans to work during July. The campaign brought in more than $700 for 6 Stones' annual fundraiser, Operation Back 2 School, which helps elementary children start the school year equipped with what they need. 6 Stones is a local nonprofit organization that is building a coalition of businesses, churches and other entities to provide solutions and meet the needs of our community. Operation Back 2 School helped 5,600 students get the school supplies they needed this school year.
After "Jeans in July," the Volunteer Committee jumped into action for students again when a representative from the Herbert Marcus Elementary school in Dallas asked for help collecting school supplies. Within a few days, all of the needed supplies were gathered and delivered to the school.
For more information about the Volunteer Committee or the services offered by the employee benefits advisors at Prescott Pailet Benefits, email skushner[at]prescottpailet[dot]com or call (214) 739-5442.
###
Prescott Pailet Benefits (PPB) is a Marsh & McLennan Agency.