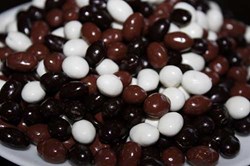 Denmark, WI (PRWEB) August 31, 2013
There are numerous articles and studies online that scare women away from consuming soy. But Almost Nuts encourages women to approach these findings with a more critical eye.
Recently, the Soy Nutrition Institute released information on the Institute of Food Technologists Annual Meeting and Food Expo in Chicago earlier this summer. Their press release is referenced below. At the meeting, twelve presenters offered in-depth knowledge and resources to educate attendees on the nutritional and health benefits of soy protein, soy oil and soy foods as well as the functionality of soy ingredients.
There were two discussions that Almost Nuts thinks is very important for women to know about. First was a meta-analysis published in the journal Menopause convincingly showing soybean isoflavones alleviate menopausal hot flashes. Second was the discussion of women's concern that soy increases breast cancer risk. They discussed the relevant clinical and epidemiologic data refuting these concerns, and noted that both the American Cancer Society and the American Institute for Cancer Research have concluded breast cancer patients can safely consume soy foods.
Women shouldn't be afraid of healthy soy snacks like Almost Nuts due to the outrageous soy myths. There many health benefits of soy that Almost Nuts doesn't want women to miss out on! There are a couple of guidelines out there for eating soy. First you want to only consume non-GMO soy products and second the greatest benefits of eating soy comes from following an isoflavone ratio close to that found in the whole soybean, which is similar to the ratio found in healthy Asian diets. As long as whatever soy products you eat are made from whole soy, you're getting soy as nature intended.
Today Almost Nuts! is proud to offer Oven Baked Soybeans, Milk Chocolate Covered Soybeans, White Coat Yogurt Soybeans, and Dark Chocolate Covered Soybeans. These delicious, healthy soybean snacks are sold wholesale and retail.
Press Release from the Soy Nutrition Institute: http://www.prnewswire.com/news-releases/sni-exec-scientists-review-health-benefits-of-soy-at-national-symposium-in-chicago-221494901.html