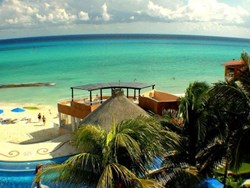 Playa del Carmen, Quintana Roo, Mexico (PRWEB) August 31, 2013
The Caribbean is a dream destination. Crystal clear blue water, powder white sand, literally the place where dreams are made. But most think that the dream of owning a property in the Caribbean is out of their reach.
Playa del Carmen has made a name for itself over the last decade. The fastest growing city in Latin America for 10 years, the fastest growing city in the world in 2006; a cosmopolitan atmosphere that combines the perfect natural beauty of the Caribbean with an international feel unlike anywhere in this hemisphere. But all of this comes at a price, and that price has been very expensive.
Up until today. With the announcement of the new website, Caribbean Living (http://www.AmericanRealtyPlayadelCarmen.com) has given a portal into a high quality, well built, affordable project in beautiful Playa del Carmen, that can be purchased by both Americans and Canadians.
This dream is turning into a realty for more people with condos starting at only $59,000 USD and town-homes starting at only $99,000 USD.
"The website is a great portal because it allows real people to see actual photos of the project," says website administrator George Watters. "There are so many time shares, or fractional things or other gimmicks out there, people are skeptical of things until they can actually see it. This is full ownership at a very affordable price."
How are the prices so accessible when homes in the Riviera Maya normally go for hundreds of thousands of dollars? The answer is actually a bit complicated and has a lot to do with NAFTA, and new zoning laws in Playa del Carmen.
"Our job is to make the information easily accessible," says George. "Then people can decide if this is something they would like to look into further or not."
These town homes and condos are beautifully designed with all the luxuries that Americans and Canadians are used to. They are built to American building standards, which means that they can be counted on for safety and quality. Only the best quality materials are used, and aesthetics are take into account in every step of the building process. Gorgeous locations are key to the charm of these beautiful homes.
Owning a home in Playa del Carmen has never been easier. Many people have already taken the challenge and are now living in a perpetual vacation location all year round. But don't expect prices to stay this low long, they never do.
For more info, visit the site at http://www.AmericanRealtyPlayadelCarmen.com.