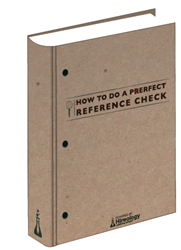 Reference checks are the most time-consuming part of the reference check process, yet they are so important
Chicago, IL (PRWEB) August 30, 2013
Hireology, the leading provider of hiring solutions for distributed enterprises, announced their publication of a reference check guide for hiring managers. The ebook titled, How To Do a Perfect Reference Check, contains four educational sections.
"Reference checks are the most time-consuming part of the reference check process, yet they are so important," said Hireology's Customer Success Manager, Michael Richter. "We created this guide for hiring managers who want to complete a reference check in the fastest most successful way possible."
The guide boasts sections on, creating a reference check questions guide, how to request a candidate's references, and the dos and donts of conducting checks. SkillSurvey, an automated reference check app, is also highlighted in the ebook. Hireology has integrated with SkillSurvey to offer their Pre-Hire 360 to Hireology users.
To download How To Do the Perfect Reference Check, go to http://resources.hireology.com/perfect-reference-check/.
About Hireology
Hireology is the leading selection management platform for distributed enterprises. Their award-winning Selection Manager™ includes everything an operator needs to manage their hiring process, including a fully hosted career site, integrated job postings, compensation analysis, pre-hire assessments, interview guides, background checks, skills verification and more. Franchise systems, banks and financial institutions, healthcare systems, dealer networks, and other multi-site operators use Hireology's web-based platform to deliver consistent and repeatable hiring decisions in the field - leading to lower turnover and increased profitability per location. For more information, please visit http://www.Hireology.com/.