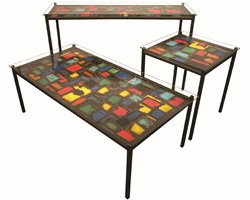 "At the end of the day the Groovystuff by Design Challenge has provided the market with some truly amazing products, however, it's really all about providing students with job creation and networking opportunities." - Chris Bruning, Groovystuff
Dallas, TX (PRWEB) August 30, 2013
After a two year absence, eco-friendly furniture designer Groovystuff is returning to the International Casual Furniture Market in Chicago, IL Sept. 17-20 and will be the first to introduce to the audience of casual retailers the hottest new outdoor trend of products with the debut of the reclaimed barrel collection of patio furniture and home décor. "Collage is the New Color Collection" and the "Made In America: Patriot Barrel Collection" highlight salvaged steel drums in an array of eye catching color patterns and join the line of over 50 furniture, lighting and home décor products in The Chris Bruning Signature Series of designer products titled the "Moonshine Collection."
The "Made in America: Patriot Barrel Collection" makes its first public appearance at the Casual Market in Chicago and is an especially important achievement and a true milestone for Groovystuff as it brings manufacturing back to the U.S.
The "Moonshine Collection" includes bar tables and chairs, side tables, lighting, wall art, mirrors and other home décor. The brilliant blues, greens, reds and oranges set the newest trend in sustainable home furniture, lighting, and home décor by adding a dash of color to the neutral palette of the reclaimed materials.
In addition to introducing these exciting new products, Groovystuff will showcase undergraduate Mike Herbert, the latest design talent graduating from Columbia College. Industrial Design Professor Mark Klein will also be on hand to discuss with the media, press, vendors, retailers, designers, and market attendees the current academic approach and real world preparation of design graduates for entry into our field. Herbert will provide a viewpoint of students enrolled in design programs in anticipation of joining our industry after graduation. Please join us at The Groovystuff Showroom 8-6040, Thursday September 19, to participate in this unique experience.
Mike Herbert is the featured Groovystuff student designer exclusive for the Casual Market. Herbert is an Art & Design Graduate from Columbia College in Chicago and was the popular vote winner at the fall 2012 High Point market for his participation in the "Groovystuff by Design Challenge" fall 2012. Herbert's focus was to design a product specifically catering to the Casual Market audience. Herbert's "Vail Chair" provides retailers with a design that fills the trend gap between emerging consumers and the more established generation of consumers. The "Vail Chair" by Herbert was the first product to be produced from the fall 2012 Columbia College "Groovystuff by Design Challenge."
According to Professor Klein, "Contemporary furniture design is about 'the situation' and looking into current 'Lifestyles' to find modern furniture solutions for the consumer. Embodying these features in real material, particularly reclaimed materials from Groovystuff, involves the combination of an artistic soul and creative mind to create true design. These features I cannot provide, but as a teacher I can help guide students to find their own place in this competitive world."
"Our goal with this competition was to provide students with a platform for creativity and encourage them to embrace the home furnishings industry," explained Groovystuff President Chris Bruning. "Good design at the right price point is where the rubber meets the road, and viral media portals like Facebook, along with feedback from the Casual Market attendees during the design phase, helps to shape these goods into a product line that hits the market at the right price, and fits perfectly into the Gen X, Gen Y demographic we were targeting."
Chris Bruning, visionary behind the Groovystuff line of furniture, lighting and home décor, developed the "Groovystuff by Design Challenge" as an industry-sponsored student design corporate sponsorship and competition to foster job creation connections and provide mentoring opportunities between students and the home furnishings market. Undergraduates from over a dozen U.S. universities as well as KMITL in Bangkok, Thailand have participated in this design competition which includes a chance at cash prizes, permanent royalties for life, and an opportunity to have selected student designs manufactured.
For more information on Groovystuff and to check out their collections, please visit their website, http://www.groovystuff.com/ or http://www.facebook.com/groovystuff. For more information on the Market, please visit: http://www.casualmarket.com.
Groovystuff's not-for-profit 2013 ICON Award Winning "University Hall of Innovation & Job Creation" and "Groovystuff by Design Challenge" represent a breakthrough approach to the nurturing of home furnishings design talent in partnership with leading U.S. colleges and universities. The Groovystuff foundation, winner of the 2013 ICON Achievement Award for "Industry Contribution & Influence", was established in 2010 by Chris Bruning to improve the competitiveness of consumer products here in the US and provide students with job creation opportunities and professors with an invaluable opportunity to network with retailers, designers, manufacturers, suppliers, journalists, and industry professionals at the High Point Market supplying the residential home furnishings industry with the most current education, research, market statistics, technology, product design, and innovation, as well as a revolving human resource of graduates from the educational programs and universities that service our industry.
About the company:
Founded in 1998 by Chris Bruning, Groovystuff utilizes reclaimed materials in the design, production, and distribution of rustic, contemporary, and eco-friendly commercial and residential furniture, lighting, and home decor at upper-medium to high-end price points. Designed for today's lifestyles and inspired by yesterday's antiquities, Groovystuff now offers eight unique residential and commercial collections: Prairie, Iron Horse, Adirondack, Back to the Roots, Kodiak, Rocky Mountain, Antares Lighting and the recently launched Moonshine reclaimed steel drum collection. Each group features pieces designed with the foundation of style, value, longevity, and preservation of natural resources. Based in Dallas, Groovystuff has permanent showrooms in High Point, NC (The Suites at Market Square, G-1025), Las Vegas (World Market Center, B-146), and once a year at the International Casual Furniture Market in Chicago, IL (The Merchandise Mart, No. 8-8046).