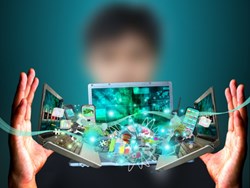 When there is a long list of proxies nearby, connection to any one of them should incur little or no lagging.
Dallas, TX (PRWEB) August 31, 2013
idcloak adds 700 new public proxy servers to its Proxy List by Country, making it the largest database of free open proxies in the world.
"Quantity is important because it ensures high speeds," says idcloak's senior researcher, Robin Welles. "Users need proxies as close as possible to their actual location and with as little competition traffic as possible. When there is a long list of proxies nearby, connection to any one of them should incur little or no lagging."
IP proxies are essentially distanced computers which allow users to connect to remote locations and access the Internet under a different IP address. By doing so, they may browse the web with no digital footprint and reach sites normally unavailable on their connection.
The list contains proxies of HTTP and SOCKS protocols. HTTP proxy use is primarily for browser-based anonymization and censorship unblocking. The HTTPS variety additionally allows the user to encrypt all browsing between their device and the server, protecting it from third-party attack or surveillance.
SOCKS proxies, though unencrypted, provide high speed transfer and are particularly favoured by those wishing to anonymize their torrents use or for unblocking services like Skype.
Welles admits that some education on proxy use benefits users of the list, "It is a little off-putting for newcomers when the list contains nothing but numerical data alongside filter parameters that mean little to the uninitiated. It's for this reason we have published some introductory articles in our Knowledge Center."
One of these articles, Web Proxy, offers valuable explanation of the ways different proxy types can be used.
For some anonymization tasks, however, Welles says IP proxies are not recommended, "The user must remember that the list is a database of third-party proxy servers whose administrators cannot be vetted. This means one shouldn't use proxies for sending or receiving sensitive or personal data, including logging in to social media sites and webmail. Our private VPN is there for such cases."
idcloak's private VPN is due for release in September 2013, and will provide access to a network operating entirely through in-house servers.
See idcloak.com for more.