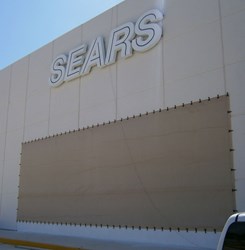 Playa del Carmen, Quintana Roo, Mexico (PRWEB) August 31, 2013
When one of the world's richest men wants something, he gets it.
Recently, Sears, owned by one of the world's richest men, Carlos Slim, began a search for hurricane protection in Playa del Carmen. After experiencing numerous storms over the last few years and being closed for months at a time, they were tired of losing revenue.
The system, which is widely considered the strongest on the planet, got a very strong endorsement from some of Mexico's top engineers those coming from Mr. Slim's headquarters in Mexico City.
Price was obviously not an issue for Mr. Slim. He wanted the absolute best protection that money could buy, and he chose Hurricane Solution above all the competition. Why? "The choice was based purely on the engineering," commented his engineer onsite overseeing the instillation.
Hurricane Solution (http://www.hurricanesolution.com) is well known for their innovative and high quality safety systems that are designed to blend in well with current architecture for a seamless look that does not sacrifice functionality. Rated independently as the safest hurricane safety system available in Mexico, there have already been many high profile instillations done in the area. It is simply the premiere hurricane protection in Cancun.
American Development is the authorized installer of this system for Hurricane Solution. Playa Builder (http://www.PlayaBuilder.com) was the authorized installer of this system in Mexico. As the only certifed installer in the country, Sears was able to satisfy both the high quality standards of Sears in both materials and workmanship.
"We are proud to be part of the team that supplies Mr. Slim," said install team head Gilbert Guzman. "Anytime somebody who is on the top of their field recognizes you as being the top in yours, it's an honor."
For more information on their system visit http://www.HurricaneSolution.com.