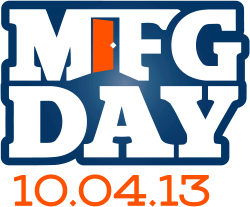 ...it really is a testament to the positive trends we're seeing for industry growth and awareness.
Peoria, IL (PRWEB) August 31, 2013
The Illinois Manufacturing Excellence Center (IMEC) is supporting the National Manufacturing Day initiative as an 'Endorser' of the program and is helping to spread the word about the positive influence of manufacturing to the Illinois economy. For more than 200 years, manufacturing has supported growth and economic stability throughout the state and the Manufacturing Day program provides an opportunity for students, parents, educators, media and the community at large to learn more about the real career opportunities, training and resources available in the industry.
Throughout the U.S., October 4th has widely become known as the 2013 National Manufacturing Day, the second year for the program. In 2012, the inaugural year, 240 official events were registered on http://www.mfgday.com and included more than 7,000 participants. This year's goal is upwards of 500 events nationwide; a goal that is already proving to be attainable. But for Illinois, the entire month of October is being touted as Manufacturing Month. To raise awareness for the importance of manufacturing to our state, on-going promotion throughout the month will allow more organizations to explore companies in their communities.
Manufacturers and community groups interested in hosting events also have access to additional resources this year. The Manufacturing Day website (http://www.mfgday.com) just launched its' newest feature – the Manufacturing Day Host Toolkit – an online guide for a successful manufacturing day events. The Toolkit features checklists including how to host a facility tour, preparing displays/literature, planning for media, and tips for following up with your guests after the event.
In addition to the website, IMEC is offering assistance and support for companies in Illinois interested in planning an event. "We are beginning to see a vast increase in events as the day/month approaches," said Amy Fitzgerald, IMEC Marketing Manager. "It's been so encouraging to see community groups and partners of manufacturing that are taking part in hosting events or supporting the manufacturer-led events. IMEC staffs across the state are working with local alliances to bring attention to initiatives and ensure event success; it really is a testament to the positive trends we're seeing for industry growth and awareness."
To learn more about the Manufacturing Day/Month events happening in your area, visit the national website at http://www.mfgday.com or contact IMEC's Amy Fitzgerald at afitzgerald(at)imec(dot)org or 309-677-2977. Co-producers of the national initiative include the Fabricators & Manufacturers Association International (FMA), National Association of Manufacturers(NAM), Manufacturing Institute, NIST Manufacturing Extension Partnership (MEP), with guest-producer Industrial Strength Marketing (ISM), and media sponsor the Science Channel.
About IMEC
IMEC was established in 1996 with the goal of improving the productivity and competitiveness of Illinois' small and mid-sized manufacturing firms. A non-profit economic development organization, IMEC is funded in part by the National Institute of Standards and Technology's Manufacturing Extension Partnership, the Illinois Department of Commerce and Economic Opportunity, and through fees paid by Illinois manufacturers for IMEC's services. IMEC has 11 offices statewide and 40 full-time manufacturing improvement specialists. For more information, visit http://www.imec.org.