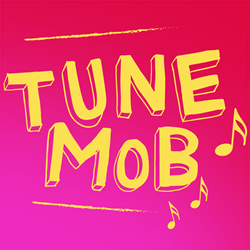 Atlanta, Georgia (PRWEB) August 31, 2013
DemandGen Agency created a new kind of iPhone and iPad audio app when it released TuneMob in August.
With the free TuneMob download, up to seven speaker systems from different manufacturers can play music in sync while connected to iPhones, iPads and iPods running TuneMob.
Now anyone can create a party anywhere using existing speaker systems and linking them together with TuneMob. Users can now extend the reach and volume of audio throughout their home, by the pool, at the beach, camping, tailgating and many other places.
TuneMob founder Benjamin Nowak said he "hopes the app proves to be an indispensable utility for all music lovers…" and stated that his "goal is to one day soon be listed in the Essentials section of the iTunes App Store music category."
Several mobile app reviewers turned their attention to TuneMob soon after its release.
"I sometimes review fancy wireless speakers that cost a load of cash, have slick AirPlay capabilities, as well as multi-speaker/room playback. I never dreamed that my iPod and iPhone coupled with some old 30-pin speaker docks could create an immersive music experience," Nate Adcock said in iPhone and iPad Life Magazine.
After testing it, Adcock noted, "Configuration is simple. Enable Bluetooth on all devices. Select 'Start' on your primary device, and 'Join' on secondary devices. Queue your playlist or songs...and press 'Play.'"
In a few seconds users hear the music being played by all devices simultaneously, Adcock added. This makes TuneMob ideal when a group wants to share music either inside our outside, like at an aerobics exercise session or a pre-game tailgate party.
Nowak said they put a lot of effort into making the 1.0 release of TuneMob stable and giving it a clean, intuitive and user-friendly interface.
"Bluetooth doesn't require pairing, connecting to a network or any pre-configuration to work. It intelligently senses devices within proximity and connects. There's nothing to do except run TuneMob and listen to your music across all the connected devices," Nowak explained.
The app won immediate praise at AppAdvice.com where Casey Tschida named TuneMob one of the best new apps and noted that it allows users to "conveniently share" their music to others nearby using a "DJ-type streaming music player."
Nowak said he's pleased not only with the positive articles that have been written about TuneMob in the press but also by the favorable user ratings and reviews, which he believes reflect the effort that DemandGen Agency invested in development.
TuneMob can be downloaded for free in the iTunes store.
For more information:
http://www.tune-mob.com
Contact: Benjamin Nowak
@tunemob
404-580-2740
###