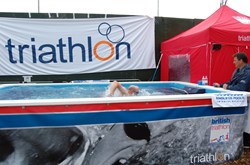 We're excited to be involved in the biggest triathlon event of the year.
London, United Kingdom (PRWEB) August 30, 2013
Jonny and Alistair Brownlee will square off at the PruHealth ITU World Triathlon Grand Final in London on September 15 to determine the 2013 triathlon champion.
Leading up to the main event, the entire weekend from September 11-15 will be a celebration of the sport, as Trafalgar Square will be transformed into Triathlon Square. Visitors will enjoy the opportunity to visit the live triathlon site and try out all three elements of the sport.
After a successful 2012 Olympic campaign in Hyde Park where attendees were able to simulate a complete triathlon, with the help of a swim in the Endless Pool, the company will once again offer the chance for visitors to try their patented swim current.
"It was fantastic to be a part of the Olympic Games last year in London and have so many visitors get a feel for the Endless Pool," said head of UK sales John Lee. "We're just as excited this year to be involved in the biggest triathlon event of the year."
Visitors will be able to swim in an Endless Pool, cycle on a stationary bike and run on a treadmill to simulate a full triathlon and get a taste of what the greats in the sport will put on full display Sunday.
For the Brownlee brothers, who are separated by just 55 points in the standings, the stakes are high as the two will retrace the 2012 Olympic course in Hyde Park.
While several scenarios are in play for the finale, if one of the brothers crosses the finish line first, they will be crowned series champion for the season.
Alistair, who is the frontrunner heading into the race, has trained in an Endless Pool in his garden, both swimming and utilizing an underwater treadmill.
The elder of the brothers was able to rehab from a potentially catastrophic Achilles injury to win Gold in the 2012 London Olympics.
For years, triathletes worldwide have utilized the Endless Pool, for both swim training and rehabilitation. There is no other pool that can simulate the feel of open water swimming.
With an adjustable swim current and the ability to swim without needless flip turns, triathletes can set their desired pace and work on their stroke, technique and endurance for as long as they'd like.
___________
Representatives from Endless Pools UK Dealers Home Counties and Possible Pools will be available in Trafalgar Square from 10-6, Thursday-Saturday, and from 10-3:30 on Sunday to speak with anyone with questions about the Endless Pool.
In addition, local triathlon clubs will demonstrate the pool each morning and talk to interested parties about membership opportunities.
ABOUT ENDLESS POOLS:
Endless Pools, established in 1988, has served over 20,000 customers in over 80 countries, and offers compact, customizable home and commercial indoor or garden pools. With a series of innovative products, from the Original model to the Spa Series, and an adjustable, revolutionary swim current, the product can be tailored for swimming, exercise or therapy. Low-maintenance and environmentally friendly, Endless Pools has a product to meet virtually any need.
For more information, visit http://www.endlesspools.co.uk, contact Rob Shaeffer at 610-497-8676 or call Endless Pools on Free Phone at 0800 520 0433.