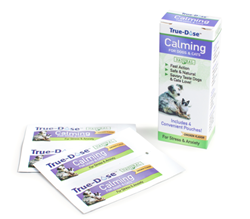 These trial-size products allow us to earn the consumer's trust when they see the amazing effects of True-Dose.
St. Louis, MO (PRWEB) August 31, 2013
True-Dose Pets is excited to announce success with its new trial boxes. The new trial offering is effective at point-of-sale locations and registers to drive consumer awareness and increase sales of full-size True-Dose products.
The trial boxes are available in Skin & Coat, Joint Care and Calming, three of True-Dose's most popular all-natural pet supplements. Both the Joint Care and the Skin & Coat trial-size supplements come in a 7-day daily-dosing size. Pet parents should see the full effect of these supplements within several days. The Calming trial-size product is sold in a four-dose amount for administering to pets as needed to address pet anxiety. The effects of this product should be seen within 30 minutes of administration.
"These trial boxes really help address a low price point as well as helping stores target impulse purchases at the register," said True-Dose Marketing Manager Amy Kohl. "These will also make consumers aware that the store carries the full True-Dose line. It increases their interest in the products and encourages them to purchase the full-size bottles, helping retailers drive sales."
"When we first debuted our Calming Sample Dispenser earlier this year, retailers saw great success with increasing sales and consumer awareness. We know this works for retailers, so we decided to provide more options for sample sizes," said True-Dose President Joe Wayman. "These trial-size products allow us to earn the consumer's trust when they see the amazing effects of True-Dose products before they commit to buying a bottle. We're confident that consumers will decide to purchase once they've seen that True-Dose products really do work."
Priced between $1.99 and $2.49 per box, the True-Dose trial boxes are well-suited for a range of stores, from pharmacies and drug stores to deep discount stores and dollar stores.
About Calming
True-Dose Calming is an all-natural calming supplement for dogs and cats. Calming can work as fast as 15 minutes after administration to help ease pets' anxiety in their most stressful situations, including thunderstorms, training, socializing, separation, fireworks and kenneling. Pets are sensitive to their physical and emotional environment and may occasionally act out in response with excessive barking, inappropriate elimination or even destructive chewing, scratching, or aggression. True-Dose Calming addresses their anxiety, the root cause of this unwanted behavior. True-Dose Calming is made with chamomile, valerian extracts, ginger extracts and tryptophan. Find out more about Calming: http://true-dose.com/products/calming/
About Skin & Coat
Like their humans, a pet's skin is one of the most important organs in their body. The health of this protective barrier is an outward reflection of overall health. True-Dose's unique blend of fish oil, biotin, vitamins and minerals helps prevent and manage shedding, excessive scratching a dull coat, itchy spots, dermatitis and allergies. Skin & Coat has formulations for both cats and dogs. Find out more about Skin & Coat: http://true-dose.com/products/canine-skin-coat/
About Joint Care
True-Dose Joint Care has formulations for dogs and cats. Joint Care includes several supplements essential for maintaining healthy joints in pets, including Glucosamine Sulfate, MSM and Chondroitin. Joint Care is specially formulated to promote joint mobility and flexibility to help your pet maintain an active, healthy lifestyle. Find out more about Joint Care: http://true-dose.com/products/feline-joint-care/
About True-Dose Pets
True-Dose Pets, headquartered in St. Louis, MO, uses a patented system to produce high-quality natural supplements for canines and felines. Their product line addresses joint care, skin and coat care, calming, wellness and dental care. True-Dose supplements are manufactured in a human-grade pharmaceutical facility, following the same strict testing and quality standards mandated by the FDA for state-of-the-art pharmaceutical product manufacturing. Their raw ingredients are certified and tested to ensure they meet strict quality standards. The founders of True-Dose have long had the goal of providing human-quality, pharmaceutical-grade products to our four-legged friends.
"All of our products are sourced and tested to human standards and manufactured in a pharmaceutical facility," said Joe Wayman, Founder and President of True-Dose. "Our goal with responsible sourcing is to ensure the same quality for pets that we expect for humans. Pets have now established themselves as part of the family, often considered to be like one of the children. True-Dose has a mission of better companion animal health with the understanding that pets have a tremendous impact on both the mental and physical health of humans."
True-Dose ensures quality ingredients as well as accuracy and ease of dosage. True-Dose products have been clinically proven to have faster absorption rates and higher peak concentrations than tablets and chewables in a head-to-head crossover study conducted by the Oklahoma State University Veterinary Animal Science and Research Departments.
Find out more about True-Dose Pets by visiting their website: http://true-dose.com/.