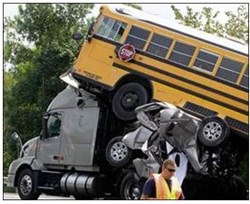 (PRWEB) August 30, 2013
Comedy Defensive Driving, the award winning classroom and online defensive driving school, has announced a reminder to drivers throughout the nation to take extra care around school buses. For most of the nation, August and September marks the beginning of the school year, where millions of America's youth are shuttled every day to and from school via hundreds of thousands of buses. This reality calls for increased safety measures to be taken by motorists to reduce accidents and protect the lives of children.
According to the National Highway Traffic Safety Administration, students are 50 times more likely to get to school safely when they take a school bus versus other modes of transportation. School buses are widely considered the safest option for transporting children. However, the few fatalities and injuries that do occur involving school buses are often a result of motorists who fail to follow basic safety laws and guidelines.
Comedy Defensive Driving recommends drivers:

Never pass a school bus that is stopped and unloading or loading passengers.
Always stop when a school bus is loading or unloading passengers, this includes vehicles on the opposite side of an undivided road (each state has different rules regarding divided roads)
Never pass a school bus on the right
Drive with caution anytime a school bus is near, children's behavior can be erratic and extra precaution is essential
Slow down around school buses and school zones
Be aware that school buses must stop at railroads crossing and may make other frequent stops
Comedy Defensive Driving is famous around the country for supplying simple, fast and fun defensive driving courses. Their instructors have gained a strong national reputation for hosting uniquely informative, yet highly entertaining defensive driving classes both in the classroom and online. In addition, they provide a popular YouTube channel dedicated to making valuable driving information more accessible through the medium of comedy.
As this fall school year begins, Comedy Defensive Driving recommends all drivers become familiar with local and national laws regarding school bus safety, and to visit their website today for more details on the numerous classroom and online defensive driving courses and traffic school options available.
About Comedy Defensive Driving:
Comedy Defensive Driving is a popular driving school offering both online and classroom courses. Established in 1989, Comedy Defensive Driving has since served over 2.5 million customers around the country. Their award winning courses offer an easy, quick and fun way to complete defensive driving courses or traffic school (BDI & TCAC). Their programs are state approved. Comedy Defensive Driving is BBB Accredited. For more information, visit http://www.comedydefensivedriving.com/, or follow them on Facebook, Twitter or YouTube.