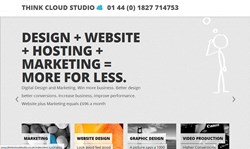 Digital agency based in Birmingham specialising in the design and build of custom eBusiness solutions
Birmingham, UK (PRWEB) August 30, 2013
Think Cloud Studio provide digital consulting, design, delivery and support services to leading retail, wholesale and manufacturing brands. The partnership brings together Think Cloud's experience and expertise in designing and delivering large scale multichannel eCommerce solutions and Efficiente's experience in conceiving and realising eBusiness solutions in the UK.
Andrew Maynes, Chief Executive Officer at Efficiente said, "We see the partnership with Think Cloud Studio as a springboard for expansion in the UK. eCommerce in the UK is changing fast and the number of people wanting to shop online has now reached over 31 million*- 3 million more than a year ago. I am very excited about this new partnership and look forward to working closely with Think Cloud Studio in the future."
"Increasingly, brands are turning to multi-channel eCommerce to meet the demands of consumers who want a sophisticated online shopping experience, with the ability to shop across all customer touchpoints, including mobile, tablet, social and in-store. This partnership offers a complete solution: expertise in the most widely used eCommerce platforms (including Drupal Commerce), the reassurance of Efficiente's 12 years' experience, systems integration skills and experienced delivery teams and our knowledge. Altogether, this makes an ideal solution for leading brands looking to launch or enhance their multi-channel eCommerce strategies and grow internationally," said Andrew Maynes, Chief Executive Officer.
Between them; Efficiente and Think Cloud Studio, have worked with a number of ecommerce projects including the redesign of Bolt Jeans of London. The partnership will focus on the retail, distribution and luxury goods market, in UK.
Think Cloud Studio is a digital agency based in Birmingham, specialising in e-business projects.
For our customers, we build effective solutions suitable to build their ecosystem by connecting all their Internet devices, capturing customers "from Google to point of sale".