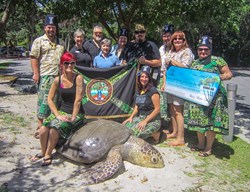 The Gumbo Limbo Fraternal Order of the Moai is pleased to support the Gumbo Limbo Nature Center with a donation for their coastal and marine environmental programs.
Boca Raton, FL (PRWEB) August 31, 2013
Members of South Florida's Gumbo Limbo chapter of the national Fraternal Order Of The Moai organization recently made a donation to the Gumbo Limbo Nature Center, a coastal and marine environmental experience in Boca Raton, Florida.
The mission of the Fraternal Order of Moai is to serve as the premier fraternal organization and social network for all men and women interested in tiki culture and the Polynesian pop era. This fun-loving socially active group lists their core values as Good Works, Fellowship, Spirit, Presence, Preservation and Celebration.
Each year, members of FOM's Gumbo Limbo chapter volunteer at the annual Miami Rum Renaissance Festival in April. In appreciation, the festival organizers made a $500 donation to the club at the FOM's annual Ohana Luau at the Lake 2013 gathering at Lake George, New York.
Robin Burr and Robert V. Burr from the Miami Rum Festival took the stage to thank the Gumbo Limbo Chapter of the Order for providing so many volunteers at the rum festival. The chapter helps to oversee all the stage management and entertainment during the grand tasting events, tallying scores for the rum tasting competition and assisting some of the world's foremost rum experts in their seminars.
Chapter members are enthusiastic about working at the world's largest rum festival. "I always enjoy working with bartenders and rum experts from around the world with their presentations on the main stage," said FOM member Don Rudawsky. "The US vs UK Tiki challenge is always over the top and the Polynesian dancers were a fantastic addition this past year."
Gumbo Limbo chapter members in turn wanted to pass along their donation to the Gumbo Limbo Nature Center in Boca Raton to aid in their innovative and strategic program to save and rehabilitate sea turtles along South Florida's coastline.
The check for $500 was presented to Diane Bilodeau, Director of Retail and Finance for Friends of Gumbo Limbo Staff and Darlene Rosa, Secretary.
The nature center educates close to 100,000 tourists each year about local native marine life and how to protect the inhabitants of some of Florida's extensive coastlines.
The Gumbo Limbo chapter of FOM has traditionally donated to animal charities in the past. This was their first donation to the Gumbo Limbo Nature Center.