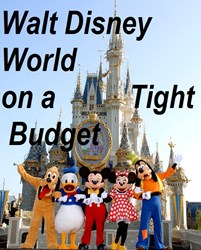 I help people afford that dream of Walt Disney World vacation on a tight budget.
(PRWEB) August 30, 2013
Family Frugal Fun releases part 3 in a 7 part series on How to Take a Walt Disney World Vacation on a Tight Budget. The series, written by blogger and author Maggie Miller, owner of Family Frugal Fun, covers everything a family needs to know about Walt Disney Florida vacation packages, Walt Disney World Discounts, and Walt Disney World resort reviews.
To find the 7 part Walt Disney World on a Budget series, go to http://familyfrugalfun.com/category/disney/.
"Families dream of a Walt Disney World vacation package that is affordable. As a frugal expert and a big Walt Disney World theme park and merchandise fan, I wanted to help other families plan their trip with some great tips such was; How to avoid long lines at Walt Disney World, How to find the best Walt Disney World Florida vacation package for your family, and Walt Disney World ticket pricing & discounts," says Ms. Miller in her upbeat voice. "You have to plan this kind of trip well in advance so you don't have a big learning curve. That is where I come in. My frugal habits have allowed my family a Walt Disney World resort vacation every year. I help people afford that dream of Walt Disney World vacation on a tight budget."
FamilyFrugalFun.com is a blog about frugal living tips, creative ideas for parents and having fun for families. It was established 3 years ago and quickly became a hit as evidenced with the blogs high Facebook Fan count. Maggie Miller is a frugal living expert and co-authored Top 100 Mobile Text Coupons on Amazon's Kindle. Ms. Miller has been seen on Good Morning Delmarva, Fox News Baltimore, had frugal tips in All You Magazine and had her blog voted CBS Baltimore's Most Valuable Blogger People's Choice Award in 2011. She recently created the wildly popular 12 Month Frugal Living Calendar. You can also find Ms. Miller's creative ideas on Pinterest & YouTube.