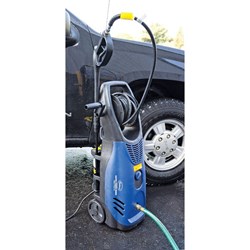 Our pressure washer has all the features people want in an easy to use pro-quality washer.
Pottstown, PA (PRWEB) August 30, 2013
The Eastwood Company, innovators of do-it-yourself automotive restoration tools and accessories, has just The Eastwood Company has introduced a powerful new Electric Pressure Washer that makes quick work of power-washing vehicles, decks, driveways, siding and boats.
But unlike other pressure washers on the market, this one has Eastwood's mark all over it. "What sets this apart from other pressure washers," said Mark Robideaux, Eastwood product manager and restoration expert, "is that it generates up to 2,175 psi of maximum pressure, with a working pressure of 1,450 psi...but it does all this at a low $199.99 price point you'd be hard-pressed to find anywhere else for a similar washer."
Powerful pressure at the perfect price point is only part of the story. Eastwood's Electric Pressure Washer also includes two soap tanks, so you can fill one with car wash soap, and the other with a stronger solution specifically for siding, concrete and decks.
Robidoux added, "Our new model has all the features people want in an easy-to-use, pro-quality washer, things like adjustable soap-dispensing, pinpoint-to-12"-wide pattern adjustment...and it plugs into any standard 120-volt outlet."
Users will also appreciate the 20'-long high-pressure hose, industrial-quality wand, built-in hose reel and wand storage, and the long-reach, 30' GFI-circuit power cord.
"Our customers know what to expect from an Eastwood-branded product," said Robidoux, "and the quality and value built into this Electric Pressure Washer lives up to their expectations. Our units have solid brass pumps in place of the lower cost aluminum pump construction. The benefits of this are that brass pump internals and passages will not corroded and pit like aluminum, decreasing efficiency and pump pressure."
Eastwood markets unique tools and supplies for repair, restoration, and modification of cars, trucks, and motorcycles. Founded in 1978, Eastwood continually develops new products to serve the home automotive hobbyist, as well as individuals and organizations focused on the restoration and preservation of automobiles and motorcycles. Writers are always welcome to use any article in Eastwood's Free Tech Library, with attribution. Contact Nick Capinski at NCapinski(at)eastwood(dot)com or 610-705-5404, for hi-res photos or to speak with an Eastwood restoration expert.