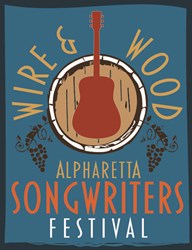 Alpharetta is quickly becoming known as a place to enjoy music with its well-known Verizon Wireless Amphitheatre and small intimate music venues such as Matilda's Under the Pines, The Velvet Note and Chukkar Farm.
Alpharetta, GA (PRWEB) August 30, 2013
The Wire and Wood Songwriters Festival will make its debut in the heart of downtown Alpharetta on Saturday, November 9 from 4-9 p.m. The festival is free to the public and is guaranteed to be an unforgettable night featuring local and nationally touring songwriters.
Music will flow through the streets as talented artists perform their own songs with soulful melodies, magnificent vocals and expressive lyrics while interacting with the audience. Listeners will learn the stories behind each song and may recognize some of the tunes that are played by their favorite musicians.
Performers will hum and strum during mini listening forums that will take place from 4-7 p.m. up and down the street. The HOME BY DARK Songwriters Show will perform on the big stage from 7-9 p.m. Some of the area's best gourmet food trucks along with beer and wine will be available for purchase throughout the evening. Families can come out from 4-7 p.m. for dinner and the mini listening street forums, or plan to stay for the big stage performances at 7 p.m.
"Alpharetta is becoming known for its music scene and festivals filled with lively entertainment, said Alpharetta Mayor David Belle Isle. "People love music and this new event brings together great musicians who not only wrote the songs they will perform but have stories to share about the song's history. Bring those elements together along with a variety of great food and the awesome community of Alpharetta and you have a don't miss event."
The lineup will include Victoria Banks with Chas Sandford and James Casto. Victoria wrote the award winning "Saints & Angels" for Sara Evans, the Billboard record-breaking hit "Come On Over" for Jessica Simpson as well as hits for Doc Watson, One More Girl, and many more.
Chas Sandford wrote the mega-hit song "Missing You" recorded by John Waite, Tina Turner and others. He also wrote "Talk To Me" by Stevie Nicks and "What Kind of Man Would I Be" recorded by super-group Chicago. Saxophonist Matt Blanchard (David Lettermen Show, Lincoln Center) and multi-instrumentalist Jim Hettinger are also scheduled to perform. The lineup will continue to grow so check http://www.awesomealpharetta.com for an updated list of performers.
"Alpharetta is quickly becoming known as a place to enjoy music with its well-known Verizon Wireless Amphitheatre and small intimate music venues such as Matilda's Under the Pines and Chukkar Farm," said Janet Rodgers, President and CEO of the Alpharetta Convention and Visitors Bureau. "We are excited to be partnering and helping to bring this unique event to life and we look forward to hosting music lovers from around the Southeast who come to town to enjoy the stories and songs of these awesome artists. It will be a fantastic event filled with great food, awesome music and fun entertainment for the whole family."
For more information on the festival including a full list of artists and accommodations, visit http://www.awesomealpharetta.com.
Alpharetta Convention and Visitors Bureau
The Alpharetta Convention and Visitors Bureau serves as the official destination marketing organization for the city of Alpharetta, promoting tourism and attracting visitors to all 23 of Alpharetta's upscale and modern hotels. Visit awesomealpharetta.com for more information.
City of Alpharetta
Having recently been named by Forbes Magazine as one of the friendliest cities in America, it should come as no surprise that the City of Alpharetta is also the 6th fastest growing municipality in the nation according to the US Census Bureau. Being home to more than 600 technology companies, the community has a well-deserved reputation as the Technology City of the South and is also a center for commerce and employment in the Metro Atlanta Region. What began as a quiet trading camp over 155 years ago is, today, a sophisticated and affluent city that is home to 60,000 residents and boasts a daytime population in excess of 100,000.
HOME BY DARK is a songwriters in the round concert event featuring the best performing songwriters in America accompanied by some of best instrumentalists on the planet. You'll hear the stories behind the songs and performances as real and genuine as they come from the writers themselves, like sitting on the front porch with friends, sipping a cold mason jar of lemonade, enjoying a warm summer breeze and music like you've never heard before.