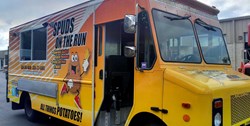 Orlando, FL (PRWEB) August 30, 2013
The premiere Central Florida food truck company has been preparing for the next wave of food truck enterprises by securing nearly 15,000 sq. feet of production space for their turnkey food truck & mobile cafe business solutions.
Prestige Food Trucks of Orlando, FL has been enjoying rapid growth ever since entering the food truck business in 2012, and with their movement into 15,000 sq. feet of warehouse, office, and production space their competition is green with envy.
"When we first got started, we had a 200 sq. foot office with 2,000 sq. feet of space and we were building specialized, high-quality food trucks for such local favorites as Feast Beast Food Truck and Zest Mobile Cafe. The attention to detail and caliber of work we were putting out stuck within the industry, and after getting our foot in the door, we haven't had a moment to look back," EVP of Operations Jeremy Adams boasts.
"Since then, we have produced numerous new food truck enterprises, have added a nationwide inventory specialist, a finance center, a marketing team, a graphics and vehicle wrap center, and a full-service maintenance team – everything you need to get started and keep the engines revving in this lucrative business is available right when you walk through our doors. We are truly a turnkey food truck business solution."
The new warehouse is currently being renovated and will be available for showcasing and operation by October 2013. Applications for pre-sales are being taken right now, and scheduling will be commenced on a per approval basis.
In addition to custom manufacturing, Prestige Food Trucks specializes in buying, selling, repairing, and financing food trucks.
More information about Prestige Food Trucks is available online at http://www.prestigefoodtrucks.com.
###
Financial capital for Prestige Food Trucks is provided by Prime Pinnacle, LLC, a private capital equity investment firm. Prime Pinnacle focuses on alternative capital investments. For more information, visit http://www.primepinnacle.com.
If you would like more information about this topic, please call Jeremy Adams at (888) 418-8855 or visit us on the web at http://www.prestigefoodtrucks.com/.