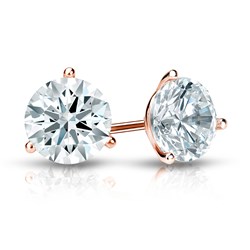 Los Angeles, CA (PRWEB) August 31, 2013
DiamondStuds.com is thrilled to announce its introduction of rose gold as a setting option for their large selection of diamond stud earrings. The distinguished jewelry brand is dedicated to provide their customers with a variety of different options when designing a pair of diamond stud earrings. The rose gold setting adds femininity and elegance to a pair of stud earrings. The romantic nature of rose gold eludes a soft glow.
Rose gold is made by using a copper alloy to create the beautiful soft pink hue. The color compliments any skin tone. Rose gold was used at the start of the nineteenth century and has currently become a popular choice for jewelry pieces. The elegant tone adds a modern touch to an otherwise classic piece of jewelry. DiamondStuds.com understands that having a variety of classic and modern metal options is important for customers to select from. The rose gold setting will provide customers with a stunning new setting option that customers will fall in love with.
About DiamondStuds.com:
Armed with a mission of lasting excellence and superior knowledge about diamonds, DiamondStuds.com focuses solely on diamond stud earrings. This attention to exacting details allows the company to offer its consumer base the largest selection of fine diamond earrings online. DiamondStuds.com also provides a huge array of customization options, enabling each individual to create an exquisite pair of studs, halo earrings, gemstone earrings or fashion earrings unique to his or her personal preferences. To learn more about DiamondStuds.com, please browse the new website at http://www.diamondstuds.com. Customers can call DiamondStuds.com at 213-955-9222 to speak live with a customer service specialist or visit the company's Facebook page (https://www.facebook.com/diamondstudscom), and Pinterest (http://pinterest.com/diamondstudscom/).