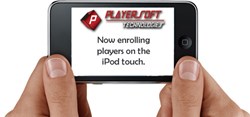 "We've built our suite products to interact fluidly, from its ability to read every US drivers license, to its intuitive management tools."
San Diego, CA (PRWEB) August 30, 2013
Playersoft Technologies will unveil its suite of interactive products publicly to the gaming community during the G2E gaming conference at the Sands Expo & Convention Center in Las Vegas, NV the week of September 23rd.
"Our suite of products has already begun to get the attention of our current client list," says Playersoft President, Tony de Leon. "G2E will give us the opportunity to publicly unveil to the gaming community the fluid interactivity we've been able to achieve with our platform." The Mobile Enrollment software has played the lead role for the San Diego based developer over the last year, and Playersoft has expanded on that success with the introduction of Group Tracker and the Host Player Management products.
"When our Mobile Enrollment product won Gaming and Leisure's Platinum award in 2012, that was the genesis for a whole new level of awareness for the company," says Playersoft President, Tony de Leon. "We're pleased with the level of integration we've been able to achieve with each of our products and our clients are taking notice as they are coming back for the new software products in our suite."
While Mobile Enrollment focuses on player enrollment anywhere on the casino floor, Group Tracker's launch in early 2013 gave operators the ability to use the same iPod Touch technology with a focus on managing players at the group level. Group check-ins can take place on or off property and allows staff to manage groups of any size and even identify individual players within a group.
"When you look at the focus and presentations for G2E; social gaming, customer data or personalized customer promotions, attendees will begin to see how our mobile integration is representative of current, forward moving trends in the gaming industry," says Vice-President of Technology, Hunter Hunstock. "Our platforms are working across the United States as well as the Bahamas and we're positioned to help operators from any size property to take advantage of every opportunity mobile technology affords."
Playersoft's TouchPoint Kiosk system is another integrated tool for operators to take advantage of. "For players who are comfortable with self-service kiosks and desire to manage their accounts, TouchPoint Kiosk system helps players stay on the go while giving the casino the ability to manage promotions from the backend through redeployment of promotions," says de Leon. The system has the ability to create special messages for guests and is another way for operators to impact customer service and staff productivity.
The intuitive suite of Playersoft's products is rounded out with its Host Player Management tool. "This is the piece that really brings together all the information the casino receives from tracking and allows management to tailor marketing efforts to each level of player," says de Leon. Host Player Management software provides customization of invites based on player preferences, tracks effectiveness and redemption levels of campaigns, and helps hosts keep track of guest interaction.
"We've been casino operators ourselves," says Hunstock. "Whether we're talking to Las Vegas resorts or Native American gaming operations, we know the importance of tracking and managing players in the fast paced casino entertainment industry. Operators need high data accuracy on the back end and intuitive platforms on the front end for staff productivity. Our systems allow for real time evaluation and that interprets into better customer service and profitability for gaming operators of every size."
Advances in mobile technology make mobile sign up, tracking and campaign development possible and affordable. For casino operators, Playersoft Technologies suite of products can have an immediate effect on increasing revenue and reducing expenses.
The G2E conference is one of the premier gaming events held each year where product providers and industry professionals are able to network, discuss and view current gaming trends. The Playersoft suite of products can be viewed at booth #4117, September 24th - 26th.