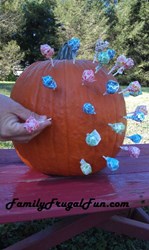 We have some unique homemade Halloween ideas so you stand out from the crowd.
(PRWEB) August 31, 2013
Family Frugal Fun, a mommy frugal family fun blog, has partnered with another blogger to bring the best in homemade Halloween props, great Halloween dessert recipes, and scary Halloween food recipes. The food and fun pair will whip up some ghoulish treats & show readers some easy to make Halloween recipes including kids Halloween party ideas.
Carol Thames, blogger and foodie with Kooky Carols Kitchen Concoctions, says, "I'm so excited to work with Maggie from Family Frugal Fun again. It just makes sense to bring food and fun together for the Halloween holidays. We have some unique homemade Halloween ideas so you stand out from the crowd."
Maggie Miller, owner & author at Family Frugal Fun says, "We love making easy Halloween foods and props that are fun to make. Families want easy to make things for Halloween. Carol and I really compliment each other well. Halloween isn't just a night anymore - it's an event that is a month long."
FamilyFrugalFun.com is a blog about frugal living tips, creative ideas for parents and having fun for families. It was established 3 years ago and quickly became a hit as evidenced with the blogs high Facebook Fan count. Maggie Miller is a frugal living expert and co-authored Top 100 Mobile Text Coupons on Amazon's Kindle. Ms. Miller has been seen on Good Morning Delmarva, Fox News Baltimore, had frugal tips in All You Magazine and had her blog voted CBS Baltimore's Most Valuable Blogger People's Choice Award in 2011. She recently created the wildly popular 12 Month Frugal Living Calendar. You can also find Ms. Miller's creative ideas on Pinterest & YouTube.