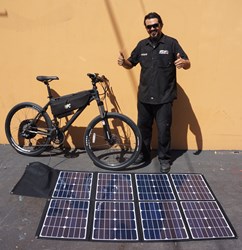 I answer to my own power company now - the sun.
Chatsworth, CA (PRWEB) August 30, 2013
Hi-Power Cycles employee Antonio Contreras commutes to work 30 miles round trip each day powered directly by the sun's energy. His solar powered electric bike allows for viable and sustainable energy usage and freedom from reliance on fossil fuels. Thanks to Hi-Power Cycles and their brand new solar charging systems, Antonio is able to commute to work and back without costing him one cent.
Harnessing the power of the sun is now easier than ever, thanks to Hi-Power Cycles and their brand new portable, folding solar systems that are capable of charging large scale electrical equipment. Antonio claims he is now saving about $3500 a year which more than pays for his bike with zero reliance on the energy grid.
Armed with the world's most efficient (24%) commercially available solar cells, Hi-Power Cycles has incorporated them into a lightweight, waterproof, foldable nylon charging system. This system is now able to output up to 300W and is able to charge any DC battery system. For his purposes, Antonio uses the 300W folding panel to charge his 650Watt-hour 52V Lithium Nickel Manganese Cobalt Battery system from his electric bicycle in a little over 2 hours. He says his solar charge is even faster than the standard 120V wall charger that originally came with his bike.
The 300W panel itself weighs about 17 lbs and can stow in a backpack. Antonio says Hi-Power Cycles also offers other panels ranging in size from 60W all the way to 300W. With their custom charge controllers, Antonio says the nominal 24V panels can charge anything from a 12V DC car battery all the way through a specialized 90V lithium battery as the output voltage can be dialed in exactly as the customer wishes.
Aside from the monetary savings, Antonio says that his favorite part of the commute is when he actually arrives at the office refreshed, rejuvenated, and ready to start the day. "This is in stark contrast to when I used to ride a normal pedal bike to work. Not only did it take 2-3 longer, but when I arrived I immediately proceeded to the restroom to wash the sweat off and put on a change of clothes. I am forever grateful that aspect of my life is now over and done with."
Another exciting aspect of going solar: "I don't have to worry about peak times or charging during off-peak hours to get the cheapest rates from the power companies. In fact, I answer to my own power company now- the sun. It is such a thrill to develop all of this energy for free just by placing the panel out in the sun for a few hours. I can get a maximum of 35 miles of electric only range at about 18 mph out of my bike from just one solar charge." For most commuters, this is more than enough, especially in cities congested with traffic. In fact, the national average for a two way commute for the average American is 32 miles. So, the 2000W electric bike or conversion kit from Hi-Power Cycles will cover the average American's commute to work- all powered by the sun.
Hi-Power Cycles plans to expand production of their folding solar panels to meet the extreme demand from both consumers and dealers alike. Chris Hunt, founder of Hi-Power Cycles said, "We are extremely proud pioneer the manufacture of these high powered folding solar panels that not only serve recreational users, but have industrial applications as well. The possibilities are endless with these panels, and we are excited to continue seeking the most efficient and well designed solar cells in the world."