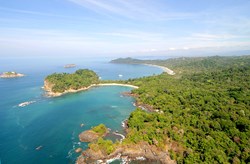 (PRWEB) August 31, 2013
Ten years ago, Manuel Antonio was still a little-known, end-of-the-road destination in an up and coming country in Central America. To get here one had to fly into a third-world airport, take a four to five-hour bumpy ride along windy mountain roads dodging potholes that could swallow a VW beetle whole, and cross several 'Oh My God' bridges. Today, improvements in the airport, highways, and bridges have made Manuel Antonio much more accessible, and new direct flights to San Jose cut the time and cost of travel down considerably.
Now, a new Costa Rican international airline, called TICOS-Airline, will be offering direct international flights to several countries, including Cuba, Ecuador and the United States. TICOS-Airline will fly direct from Los Angeles and New York to the Juan Santamaria international airport in San Jose (SJO), and may also open additional routes in the near future.
The direct flights will cut literally hours off the travel time for most visitors from these cities, which would otherwise have to make a layover in another hub such as Dallas, Atlanta or Miami. Now, visitors from Los Angeles can reach Manuel Antonio in about the same amount of time it takes to reach Honolulu, Hawaii; visitors from New York can be here quicker than going to London.
As the travel improves getting to Manuel Antonio, so do the accommodations. Also in the past ten years there have been many changes to the way that tourists travel. The internet has put information and connectivity in the hands of the travelers; they are no longer reliant on travel guides to tell them where to stay. Vacation rentals have become a popular form of accommodation, and online listings services give travelers a wealth of options for rental properties as well as the tools needed to find the right option for them.
Direct flights and better infrastructure has brought the world into a new era—of 'home to home' travel—and now Costa Rica is on the market. Travelers can eat breakfast in the comfort of their own home, and dinner in the comfort of their rental home in Manuel Antonio!