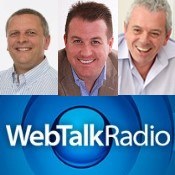 These shows covered social media as well as how leaders can use the social web to enhance their professional expertise, establish and market their businesses as well as help people all over the world and be better world citizens.
Ithaca, New York (PRWEB) August 31, 2013
GIVE Leadership Institute co-founder Al Gonzalez's weekly WebTallkRadio.net show, Leading Beyond the Status Quo, featured guests in July whose contributions to sustainable leadership through tools such as finance and social networking have made a profound impact on their organizations and the communities they serve with regard to employee engagement, negativity bias and the "Triple Bottom Line" of People, Profit and Planet.
In a show titled "The Second Part of the American Dream," Gonzalez spoke to Chris Hurn, Co-founder and CEO of the Mercantile Capital Corporation and the Amazon Best-Selling author of The Entrepreneur's Secret to Creating Wealth: How the Smartest Business Owners Build Their Fortunes, a book aimed at helping entrepreneurs reignite the American economy.
Hurn discussed the importance of the need for business leaders to demonstrate a servant leader's attitude. "Although you may want to make it clear that your time might be best spent elsewhere, you should maintain the attitude that nothing is beneath you. As a small business owner, chances are that you have done the same job your employee is doing and can still do that job." He also stressed the value of being a good role model: "when people see you working hard, it's hard for them not to."
Shows such as "Leadership and Building What Matters Most" concerning the impact of social networking on leadership took on a broader perspective. Barry Smith, Certified Coach, Teacher and Speaker with John Maxwell Team and owner of Building What Matters, a leadership development and coaching company, discussed his work as one of 150 coaches invited by the Guatemalan government to train 24,000 educators and leaders - in two and a half days.
As chronicled in his daily updates on social media sites such as Facebook and Twitter, Smith and his colleagues were originally asked by the country's new president and most influential citizens to bring Maxwell's personal growth and leadership training to Guatemala's 148,000 educators. Smith explained that the depth of the need for this training at all levels – in the country's churches small business big business, government workers social security department – soon expanded the scope of their mission.
"We shared 15 laws of personal growth and 15 values of leadership with groups of 15-300 people at a time. We then asked 'how can you change, what would be the benefit, how does this personally impact your life, what is the next thing you are going to do to improve in this area?'"
"There was a lot of heartache and bitterness holding them back…they had thought that that their circumstances or government would dictate their lives, and very few of them had the understanding that they can control their lives, make decisions. Lives were changing right in front of us."
Smith's work was also a topic of discussion during "Leadership and the Social Web," featuring returning guest David Hain, Director of Transformation Partners based in Cardigh, Wales. During this interview, Gonzalez and Hain talked about how both of them had been following Smith's work in Guatemala on social media as well as how leaders can use the social web to enhance their professional expertise, establish and market their businesses as well as help people all over the world and be better world citizens.
Hain explained that for him, the social web was a journey that began with learning. "On Twitter, once I learned what a hashtag was, I found that a search on a subject like leadership returned a forest of fantastic references that I could work with, and they tended to have a whole series of other references with it, which took me on a journey to all sorts of places. It's fast transfer of good material, truly fresh learning delivered in a daily basis."
Gonzalez and Hain originally made contact via Scoop.It, a web site that combines social networking with content curation. Gonzalez said that the site allows you to have "something you are already researching ready for reference and streamlines the process of linking that information, as well as your own contributions, to all other social channels." Hain added that Scoop.It has "uncovered so many more people who can bring me new thinking, challenge my own thinking and, at the same time, promote my brand across all sorts of media to every continent of the world."
The discussion turned to what they both learned about Barry Smith's work in Guatemala from his daily updates through social media. They agreed that cases where individuals used social media to heighten awareness about crises around the world and bring about relief and solutions.