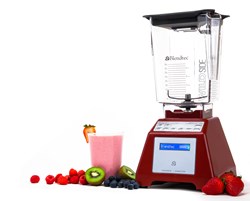 We're proud to join in these efforts to raise the next generation of strong, healthy kids.
Orem, UT (PRWEB) August 30, 2013
Blendtec is pleased to announce its partnership with the American Heart Association and Healthy Kids Concepts in teaching kids the benefits of healthy, locally-grown foods through their Kids Cook with Heart program.
Blendtec, a leading manufacturer of high-end commercial and consumer blenders, donates blenders to Kids Cook with Heart—with a commitment to provide many more as the program rolls out to more schools throughout the country.
Kids Cook with Heart provides schools with programs that teach children how to prepare healthy foods in a way that's fast, fun and easy.
Nicolla Ross, senior director of community health at the American Heart Association, expressed her appreciation. "The blenders have empowered teachers and kids to go from the garden to the classroom with tasting activities and kid-friendly recipe preparation," she said. "We are so grateful to collaborate with Healthy Kids Concepts and Blendtec to empower students to eat healthy."
Reed Beus, Blendtec chairman and CEO, reaffirmed Blendtec's commitment to healthy eating. "We understand that the best time to prevent obesity is when eating habits are established during childhood," he said. "We're proud to join in these efforts to raise the next generation of strong, healthy kids."
________________________________________
About Blendtec
Based in Orem, Utah, Blendtec manufactures industry-leading commercial blenders and dispensers for industrial applications as well as commercial-grade blenders and appliances for home use. The award-winning Will It Blend?® Internet video series (willitblend.com) demonstrates the amazing performance of Blendtec's blender technology and has raised awareness across the globe of the Blendtec brand. Sold in 90 countries, Blendtec offers the total solution for anyone's blending needs, both for home and business. For more information go to blendtec.com, or call Blendtec directly at 800-748-4500.