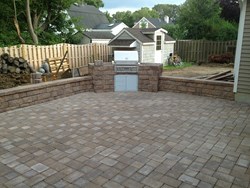 Matawan, NJ (PRWEB) August 31, 2013
Construction is a consistently changing business. People with different tastes often want different styles of homes built. It is not uncommon, however, for one thing to become more popular than others in the construction business. These trends often show up in that many different people with different tastes and styles are asking for the same thing in the construction of their home. The current home construction trends include outdoor kitchens, green construction and kitchens and bathrooms that boast their own style.
Outdoor kitchens have been very popular in homes that are located in the south or in warm climates. These generally consist of a built in outdoor grill and a place to dine outside. While these are common and very traditional, recently home construction companies have seen more elaborate outdoor kitchens including outdoor fridges, stoves and even microwaves. These kitchens are protected from the elements and are made to be used outside. They can make a lovely addition to any deck or outdoor living space and can create functionality for families and guests.
Green living has become more and more popular recently. The construction business has gotten into the green trends as well. Homeowners have begun looking at different aspects when building their homes including sustainability and helping the environment. Things such as renewable energy, recycled materials and automatic energy controls are becoming very popular in the home construction business. Homeowners are often looking for ways to cut costs in the long run and help better their environment.
Kitchens and bathrooms are two of the most used rooms in the home. Often these were overlooked or left to the homeowners to choose the style and decoration theme by using accessories and color palettes. Home construction companies have seen a recent increase in customized kitchens and bathrooms with style. From cabinet and counter top colors and materials to the design of appliances and angles of the walls in these rooms, homeowners have been asking for bathrooms and kitchens that have more style elements than the kitchens and bathrooms of previous years.
If you are looking to build a new home, it is important that it is designed to your specifications and style. This means that everything should fit you perfectly. Trends and popular notions often fit many different people and lifestyles while being able to last for a long time and be versatile no matter if the home is sold or transferred to different owners.
About Stone Creek Builders
The founder of Stone Creek Builders has been a leading provider of building, remodeling and restoration services for over 20 years. Stone Creek Builders provides general contracting, remodeling, insurance restoration, house lifting, and storm reconstruction services to clients in central and shore regions of New Jersey. Contact us at (732) 566-0395 or visit our website at http://www.stonecreekbldrs.com for more information.