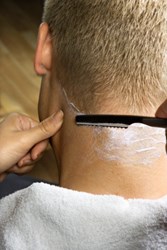 The Gents Place is pleased to achieve our purpose of making men look and feel their most confident best all year long with this incredibly valuable perk.
(PRWEB) August 30, 2013
In a world where first impressions are everything, what impression do successful men strive to achieve? Gentlemen may assume that if they are well groomed, well dressed and well-mannered that all of their bases are covered. However, men often overlook one minute, yet crucial detail. That detail would be their neckline. What they are unable to see; the rest of the world sees on a daily basis. So now that gentlemen realize their neckline is talking behind their back, what is it saying? Would they like the message it's sending out?
Over the decades, men have struggled with this very problem. The fact is this; usually long before a man is due for his next haircut, his neckline is well overdue. So what's a gentleman to do in this hairy situation?
In the past, men have been left with a couple of options; get a full haircut before it's due or attempt to do it themselves and take the chance of completely butchering their neckline. Both of these options are less than optimal.
The Gents Place saw a need in men's grooming and decided to deliver a solution to this age old dilemma. The Impeccable Grooming "Upkeep" Service was developed so that successful gentlemen can maintain that well-groomed look. The service includes a full clean-up of the hairline, neckline, ears, nose and eyebrows for a classic and tailored look at all times. The service retails for $15.00 a la carte, but is now completely free for members to enjoy as often as necessary. This service adds even more benefit to an already "rich" membership program offered at The Gents Place Men's Fine Grooming. Men are invited to stop in to Dallas's #1 barber shop anytime for this "Upkeep" Service and enjoy a complimentary beverage from the clubs top shelf full bar.
To learn more about The Gents Place or find the club nearest you, please visit http://www.thegentsplace.com.
The Gents Place Experience:
Founded in 2008 by Ben Davis, a frustrated guy who hated getting his haircut, The Gents Place offers men's grooming and lifestyle products and services in a masculine, yet relaxed country club type environment. They offer men's hair services, hand and foot repairs, straight razor shaves, massages, shoe shines and more. Frequently referred to as America's Premier Men's Grooming and Lifestyle Club with locations in Texas (Dallas, Frisco) and Kansas (Leawood) and awarded 2013's "Best Barbershop," The Gents Place is known for its commitment to client service and top shelf amenities.