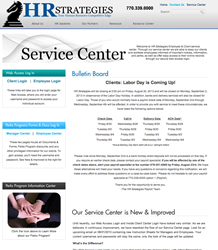 The updates to the site have improved HR Strategies' client's overall experience.
Duluth, GA (PRWEB) August 30, 2013
Usability is key in today's fast pace society, and if something isn't user-friendly, it becomes obsolete. HR Strategies is continuously working to keep their website updated with the newest content and the most efficient systems and processes.
During the month of August, the Service Center page of the HR Strategies website was updated in a few areas. HR Strategies has differentiated the 'Web Access' and 'Perks/Forms & Docs' log in boxes by color, to make them easier to navigate. Previously, the two boxes were very similar in color and arrangement, but now clients will be better able to distinguish between the two. An email was sent out to clients earlier this month that alerted them to the update.
Additionally, the website will soon be taking on the HR Strategies company blog. The blog is currently housed on Wordpress, and will begin streaming on both Wordpress as well as the HR Strategies site within the next few months. HR Strategies is excited to be able to house the blog on both platforms to increase reach. Many of the articles on the blog are written in-house by HR Strategies' staff bloggers as well as reblogged from other great websites. HR Strategies combines a mixture of knowledge, humor, interesting facts, and quotations on the blog to keep the content exciting. Topics range anywhere from workers' compensation, payroll and employee benefits, to training, regulatory compliance, and HR consulting. During the month of September, HR Strategies will be focusing on labor related issues in honor of Labor Day.
The updates to the Service Center have made it easier on clients and managers to get to the Documents and Forms section of the website. This section also houses the Perks Program promotional codes and passwords. The updates to the site have improved HR Strategies' client's overall experience.
About HR Strategies
HR Strategies provides the customizable HR solutions (including but not limited to payroll, benefits, workers compensation, tax administration, regulatory compliance, HR consulting, training solutions) and expertise of a large corporation's personnel department in an affordable and effective solution. HR Strategies enables clients to reclaim time, stabilize and reduce labor costs, and stay compliant with government regulations.