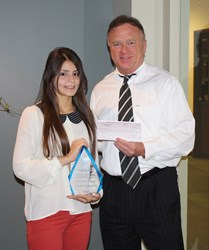 Las Vegas, NV (PRWEB) August 30, 2013
The Richard Harris Law Firm is proud to announce the winner of the 2013 Students with a Cause PSA Contest: Kenberli Gomez of West Preparatory Academy. Gomez submitted her self-made, 30-second video PSA for consideration, and was selected as the winner by a panel, which included members of the Richard Harris Law Firm and professionals in the media and broadcast industry. The contest, now in its fourth year, focused on the topic of bullying. Currently enrolled high school students (grades 9 to 12) in Clark County, Nevada, were encouraged to submit videos for consideration. The contest received nearly 40 entries from talented students throughout the Valley, and a review panel narrowed down their decision based on creativity, content and clarity of the message. Gomez's video was chosen because of her interpretation of the issue of bullying and call for action to be aware of the problem and change the behaviors affecting many children and young adults in her area, and across the country.
"There was a great deal of competition this year, and there were some really quality videos that were entered in the contest," Founder of the Richard Harris Law Firm, Richard Harris, said. "The final selection of Kenberli came down to the sheer emotion she conveyed in the video. When reviewing the submissions, the panel continued to mention not only were the students talented, but they also had a firm grasp on the damage bullying causes. This video will be shown on television throughout Clark County. We truly hope the message reaches its target and instances of bullying decrease."
As the winner, Gomez received a $1,500 scholarship. A $500 donation was also made to West Preparatory Academy.
Next year's contest, featuring a different topic, will be announced in early 2014. For more information about the 2013 Students with a Cause PSA Contest or to watch all of the submissions, please visit RichardHarrisLaw.com.
ABOUT RICHARD HARRIS LAW FIRM
The Richard Harris Law Firm has been a staple in the Las Vegas community since 1982. The firm has nearly 20 attorneys dedicated to the practices of personal injury, workman's compensation and Social Security disability. The Firm handles a wide variety of personal injury claims, including auto accidents, medical malpractice, wrongful death, nursing home abuse and defective product injuries. For more information about the Richard Harris Law Firm, please call 702.444.4444 or visit them online at http://www.RichardHarrisLaw.com.
ABOUT CIM MARKETING PARTNERS
CIM Marketing Partners provides services that include strategic consulting and planning, digital and social media, public relations and advertising, media buying and placement, corporate identity development and branding, brochure and collateral development, television and radio production and special events planning and management. For more information, call 702.944.2464 or visit the Web site at http://www.cimmp.com.