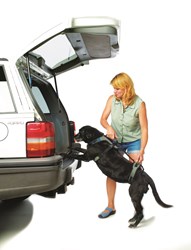 Dogs love nothing more than to be with their owners, and a few simple steps can make the experience better for everyone.
Denver, CO (PRWEB) August 30, 2013
Traveling with pets can be stressful. Traveling with an aging dog poses additional challenges. Older pets are susceptible to more health issues that are not as much of a concern for younger pets. Traveling with a senior pet can be a rewarding experience, but it's smart to be prepared. The folks at Blue Dog Design, makers of the Help 'Em Up Harness™ have crafted a quick reference guide for traveling with your furry friend.
Make sure they have been relieved. Many older pets can't control their bladders and may let loose unexpectedly. Try to avoid any unpleasant accidents by making sure your pet is fully relieved prior to departure. If driving, make occasional stops.
Carry all medications. If a pet requires medication, be sure to have all medicines labeled and set a device, like a phone or watch, to alert you when to give the medication. Remember to keep the medications on your person at all times.
Put on their ID tags. When in an unfamiliar environment, older pets may become confused and wander off. Make sure tags have your cell number on them, and your dog is chipped.
Find a local veterinarian. Whenever you travel with your pet it is important to know where they can receive medical attention if necessary. For aging pets with preexisting conditions having this information is even more vital. Be sure to bring your pet's medical records to help expedite the process. Research ahead of time and gather contact information, specifically of veterinarians who specializes in the ailment your pet experiences when possible.
Schedule their play time. Choose time when temperatures are not at extremes. Older pets may suffer heat stroke or dehydration at high temperatures. In cold weather they tend to experience stiff joints causing extreme discomfort and pain.
Watch their movement. As pets age they may suffer from muscle and joint diseases, arthritis being a key contributor to stiff joints in senior pets. The Help 'Em Up Harness is a lifting mobility device with handles to help dogs get in and out of cars and up off the floor. It provides dogs relief for ailments associated with aging including muscle atrophy, hip dysplasia, and myelopathy. The Help 'Em Up Harness is designed to distribute weight over the large surfaces of the chest and hind quarters and can be worn comfortably many hours a day. Owners with dogs suffering from cataracts or that are sight impaired use the harness as a guide to help steer them around obstacles or up ramps and provide balance and safety. The Help 'Em Up Harness is available for large and small dogs.
About Blue Dog Designs:
Blue Dog Designs was launched in 2008 with the original The Help 'Em Up Harness, the first full body lifting harness for dogs that can be worn for extended periods. Ergonomically designed with soft comfortable padding and waterproof Neoprene, the harness has elevated handles for lifting and stabilizing, is adjustable to fit any size dog and machine washable. The harness is used by veterinarians post-surgery, but also helps owners lift aging dogs up off the floor, up and down the stairs, or in and out of cars or boats. For more information and a free brochure on the Help 'Em Up Harness, visit http://www.helpemup.com.