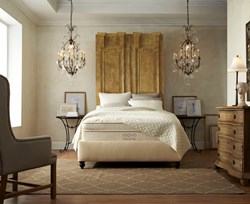 We're communicating with our customers across multiple social media platforms and we've seen record engagement.

- Nicolle Hiddleston, Social Media Manager
Austin, TX (PRWEB) August 30, 2013
Saatva, an exclusively online mattress company that offers ultra-premium luxury mattresses for up to 70% off of traditional retail prices, has commenced a new social media campaign in an effort to grow their community and give consumers a way to connect regarding mattress purchases, sleep issues, and thoughts about the rapidly growing e-commerce company.
The campaign integrates Facebook, Pinterest, and a newly launched blog by writer Andrea Lindzey into an already strong web presence in order to further engage, entertain, and educate consumers across the United States. Nicolle Hiddleston, Saatva's Social Media Manager, says, "I've really enjoyed the growth we've seen. We're communicating with our customers across multiple social media platforms and we've seen record engagement." Saatva's latest Youtube video garnered over 5,000 views and the company enjoys over 1,200 twitter followers and 2,500 Facebook fans.
The team's work has already resulted in enthusiastic Facebook posts from fans. One comment reads, "The best sleep I ever had, point blank! The Missus agrees. Everyone in the house loves it. Best investment yet."
To learn more about Saatva, watch their newly launched video and visit the company's social media sites, or visit the site:
http://www.youtube.com/watch?v=7O-g4080OTI
http://saatvamattress.com/blog
http://saatvamattress.com/
https://facebook.com/saatva
About Saatva
Saatva is based out of Westport, CT and Austin, TX. Over the last several years, by providing the best overall service and value in their industry, Saatva has grown from a mid-sized regional luxury mattress company to one of the largest online-only mattress companies in America, shipping coast to coast. The Saatva executive team has extensive experience in retail and e-commerce, working in the past with companies such as Brookstone, Rosetta Stone, Men's Wearhouse, Facebook, and Apple.