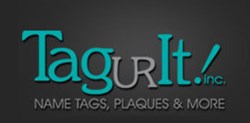 'By introducing our allergy awareness key chains and backpack bling, we want to help parents keep their sanity by knowing their children with allergies will be able to communicate to their teachers they have allergies...' - Catheryn McKeever
Newport Beach, CA (PRWEB) August 30, 2013
As chain stores start announcing back to school sales, and children start revving up for their first day of school, parents are faced with ensuring that their child's belongings do not get lost in the crowd. Tag UR It! offers an easy solution for parents that have children with allergies, and parents that want their child's belongings to be easily identified: personalized backpack bling.
Parents with children that have allergies are able to customize tags for their child to ensure that their child does not eat anything that they are allergic to.
As a creative mind, Catheryn McKeever, founder and president at Tag UR It!, is used to solving problems that are faced by her large client base. Parents of children are no exception. "By introducing our allergy awareness key chains and backpack bling, we want to help parents keep their sanity by knowing their children with allergies will be able to communicate to their teachers they have allergies—even if they don't tell them themselves. We provide top-of-the-line products that are completely customizable at a fraction of the price," Catheryn McKeever.
For students that are looking to add bling to their backpack, Tag UR It! offers custom key chains that serve a dual purpose: backpack bling, and an easy way to identify a child's backpack. They offer sublimated photo key chains, engraved dog tags, and license plate key chains that are easily customizable.
Tag UR It! has created customized backpack accessories for over 10 years and works hard to create high-quality personalized accessories at an affordable price.
To customize any product contact the Tag Team today.
About Tag UR It!
Based in Southern California, Tag UR It! Inc. is serving the name tag, recognition award, cloisonné pin, and event tag needs of restaurants, hotels, and businesses nationwide. This amazing company was brought into reality in January 2010 by the creative genius of Catheryn McKeever and Heidi Myers. At Tag UR It! Inc., they pride themselves on superior customer service, fast turnaround times, and high quality products at great low prices. The experienced, creative staff will help any customer along every step of the way, designing the perfect product for the needs of their clients. There are no minimums, set up fees, or mock up charges. At Tag UR It! they understand that providing great products, like quality engraved brass plates, employee plaques, and reusable magnetic name tags will never go out of style and they plan on being a leader in the name tag industry for decades to come.