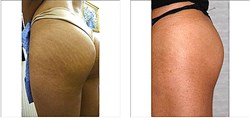 (PRWEB) August 31, 2013
Dr Zdinak is proud to announce a new division focusing on Carboxytherapy for stretchmarks and utilizing new combination protocols for stretchmarks and Cellulite combining Thermage, Carboxytherapy, Exilis and Acousitic Wave for optimal results.
Lisa A. Zdinak, Medical Director of Precision Aesthetics has always been innovating non invasive and non surgical solutions for body shaping and face lifting. With the recent addition of illumiwave lipocontour 635, the number of non surgical treatment options for patients for bodyshaping and non invasive, and non surgical fat loss has climbed to 5. Due to overwhelming demand for stretchmarks and cellulite treatments Thursdays are currently being exclusively dedicated to be our Carboxytherapy Clinic Day. It is expected that eventually it may indeed increase to 3 days a week. Our nurse, who was trained in treating veins in the classical manner is performing exclusively Carboxytherapy stretchmark procedures late into the evening on Thursdays. Currently we are exploring even more offerings to augment our current suite of technologies, many of them, like Vanquish, are so new that they are still in the development phase. Patients can keep abreast with our new offerings by signing up for our newsletters. We only mail our patients when there are new offerings, however new offerings seem to be happening a few times a year lately. Dr Zdinak has built her practice, Precision Aesthetics, by seeking out the latest technologies, and then educating patients via her website at Precision Aesthetics, her blog at http://www.dr212renew.com and in addition many of her articles are syndicated at Thermageblog.com. and other educational websites. She is also the Chief Editor and Physician at Carboxytherapy.com as well.
Dr Zdinak attends to her clientele, that range from local residents to Hollywood, Europe, Russia the Far East, and every corner of the globe at her office at 10 West 74th St at Central Park West. Her staff are probably the most experienced Carboxytherapy and Thermage providers because Precision Aesthetics is New York's premiere Thermage provider with every single new product introduction going back 7 years and has been awarded Black Diamond and Pinnacle Award for 7 years running as well as Best of Manhattan and many other accolades as well. In addition Dr Zdinak did the original studies for Carboxytherapy for dark undereye circles and stretchmarks and has been featured many times on television as well as in numerous articles in consumer and medical aesthetic magazines.
Other offerings include Genuine Dermaroller, Silkpeel dermal vitamin infusion ( also known as the black tie facial), Acoustic Wave Therapy, IPL, Ultrasonic Vitamin C facials, New York's first Exilis for body shaping, and first illumiwave lipocontour 635 as well. Also available are her exclusive skin specific vitamins;Genetiskin, Australian Ultraceuticals, featuring the extensively researched, only anhydrous 23%, vitamin C cream.