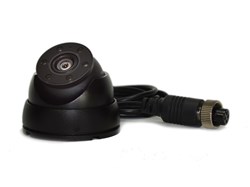 This makes the most reliable, simple and affordable police in-car camera system an even greater value.
Byron Center, MI (PRWEB) August 30, 2013
PRO-VISION® Video Systems announced today their release of the all-in-one Night Vision Mini-Dome Camera further simplifying the design of their Solid-State Police In-Car Video System. Previously, to get a nighttime rear-seat shot and audio, both a separate night vision module and audio recorder were required. With the new camera both audio and night vision video are captured simultaneously through one device.
"Most other police in-car camera systems have bulky rear-seat cameras without night vision, and require a separate audio recording device," said Marketing Manager Sam Lehnert. "We deliver everything in one compact camera." A compact size was needed to ensure the camera was discreet allowing those in custody to easily forget its presence. This camera assists in gathering evidence from any incriminating admittance while inside the car as well as allowing officers to review the video for suspicious actions made to hide or unload items from their person. With a conspicuous, bulky camera, those in custody would be less likely to talk, knowing that they are being recorded.
The new Mini-Dome with its simplified setup will decrease installation time and cost as well as overall system cost since fewer components are needed. This makes the most reliable, simple and affordable police in-car camera system an even greater value.
About PRO-VISION – In 2003, PRO-VISION was incorporated and started by supplying back-up camera systems. 2005 marked their entry into the School Bus market. By 2009, PRO-VISION had entered the Commercial Recording System market, released 4-Camera School Bus Systems, and allowed for Live Video Viewing and Video File Transfer. By 2011, the company had expanded into a 240% larger facility and entered the law enforcement recording system market. The company has expanded to the international market selling systems into countries such as South Africa, Great Britain, Australia, Mexico, and Brazil, to name a few. PRO-VISION is ranked as a top manufacturing firm on the Inc. 5000 list of fastest-growing private companies in the US for 2011, 2012 and 2013. BODYCAM was recently released as PRO-VISIONs line of body-worn police cameras.