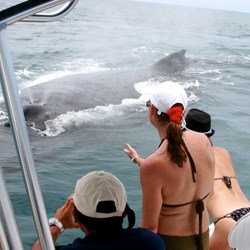 "We watched them for like thirty minutes--both a mama and her baby!"
- Nancy, USA
(PRWEB) August 31, 2013
Whales are not so dissimilar to humans when it comes to travel. Every year, dozens of humpbacks from both the northern and southern hemispheres take a long vacation to the tropics. Their destination—Costa Rica.
September marks the whale season in Costa Rica. The deep, warm waters of the Costa Rican Pacific coast provide the perfect getaway and environment for both mating and giving birth. Some whales travel up to 5000 miles for this remarkable reunion, and come from distant areas near Alaska, South America, Hawaii and Australia. For a few short weeks they bask in the warmth and natural beauty of Costa Rica's Pacific coast… and then head back to cooler climes.
The whales make the most memorable experiences for tourists. Seeing such huge, intelligent, beautiful creatures in their own natural habitat is often the highlight of the trip. Tourists can go whale watching on a catamaran cruise, rent a boat to go out themselves, or even see them while sport fishing. The enormous mammals put on a great show—males breaching, or mothers teaching their calves to swim. Close encounters in these times are not uncommon.
On Thursday, August 29th, some lucky tourists at the Shana Residences in Manuel Antonio saw the whales directly from their balcony. "It was the most incredible thing!" said one. "At first I didn't know what they were. We watched them for like thirty minutes—both a mama and her baby!"
Whether from the deck of a boat, or the deck of a rental condo in Manuel Antonio—seeing a whale is a spectacular thing. September is the perfect time for nature-lovers and whale-watchers; not only are there fewer people, but prices for accommodations go down considerably. A group of 8 people staying at a rental villa can go out on their private boat for just over $50 per person and have the experience of a lifetime.
Twice a year the humpback whales can be seen in Manuel Antonio, centering around March and September. Most would agree that they picked two great times of the year to take a vacation!