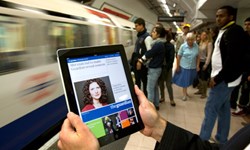 It was quite interesting to watch the technician as he carefully removed the glass without damage internal components
eld, Cardiff, Coventry, Nottingham, Leicester, Sunderland, Belfast, Newcastle upon Tyne, Brighton, Hull, Plymouth, Stoke-
London, Birmingham, Leeds, Glasgow, Sheffield, Bradford, Edinburgh, Liverpool, Manchester, Bristol, Wakefion-Trent, Wolverhampton (PRWEB UK) 31 August 2013 -- Some common problems the iPads encounter include a yellow tint on the screen, Wi-Fi and 3G/4G issues, broken screens and faulty home and power buttons can actually be repaired in under an hour from start to finish. Other repairs that require more diagnostics such as water damage and charging problems could take longer and are harder to estimate exact time frames.
Customers can now drop their iPads in for repair to their workshops located in Central London close to four major stations in the city, Barbican, Farringdon, Angel and Old Street. Ryan Newman, Managing Director of iPad Repair London said, "we are not just an online business and with this new service we are improving the customer experience, it just gives them an added level of comfort and reassurance." The national collection and delivery service is also a quick option and great for those who live farther away.
The walk-in customers receive personalized experience whilst their iPad's get repaired. James Cook from Canary Wharf in London said, "the technician was great, I was luckily able to watch as the screen I had cracked the night before was replaced. Not a repair you would want to do yourself. It was quite interesting to watch the technician as he carefully removed the glass without damage internal components. Everyone was friendly and the repair was done quickly. I'll definitely recommend them to all my colleagues and friends."
All work at iPad Repair London is carried out by skilled technicians with many years of experience in the Apple repair sector. They specialize in fixing iPad's and it's backed by a one year warranty. This goes a long way to having peace of mind when it comes to the repair of your beloved iPad.
Address: iPad Repair London, Davina House, 135-149 Goswell Road, London EC1V 7ET
To find out more about the services offered by iPad Repair London visit http://www.ipadrepairlondon.net/ or call 020 3544 9930. iPad Repair London is part of the Hello Techy family of tech repair businesses.