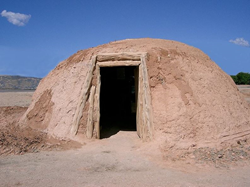 (PRWEB) August 30, 2013
The Navajo Indians are considered the largest federally recognized Native American tribe, and are located within the United States. Navajo Indians normally preside on reservations, which are spread across the states of Arizona, Utah, New Mexico and Colorado.
Now, a new website features articles on Navajo culture and traditions as well as the tribe's rich and incredible history.
"The story of the Navajo American Indian is truly a fascinating one," said NavajoIndian.net spokesperson Kimberly Crosswell. "We're here to shine the spotlight on all the great things they've accomplished, as well as their continuing remarkable contributions today."
The Navajo Indians were both hunters and gatherers. "That is, at least, before they came in contact with the Pueblos and Spanish," said Crosswell. "They soon learned agricultural techniques from the Pueblos and Spanish, and learned to grow corn, squash and beans. They eventually engaged trade, and frequently traded clothing and blankets created from wool. They also traded cattle, and other livestock."
The Navajo men were considered political leaders, and were often hunters and warriors. The women were normally farmers; they took care of livestock, and took care of the family by cooking.
"The Navajo had created a lifestyle based upon both cultural and acquired beliefs," said Crosswell. "Primarily, they believed the physical and spiritual worlds comingled, and wholly believed each object—living or inanimate—on the earth was both imbued with spirit and relative."
Among other facts revealed on the website includes the revelation that the Navajo worshiped the sun, the wind and water, and were extremely cautious about deal—so much so, that they refrained upon mentioning the topic within conversation.
The Navajo also had two major ceremonies. The first, the Blessing Way, was intended to keep individuals filled with wisdom and happiness. The second, the Enemy Way, was enacted to discourage evil spirits, and vanquish ghosts.
For more information about Navajo Indians, please visit NavajoIndian.net.