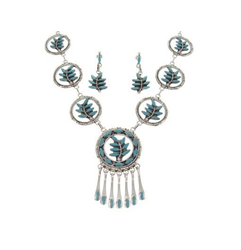 Zuni Indian jewelry has made a profound and lasting impact in a very short period of time.
(PRWEB) August 31, 2013
The Zuni people have a long and rich tradition of creating some of the most beautiful works of art and jewelry in North America. These incredible and lavish pieces have been worn by some of the biggest music and movie stars in the world today.
Now, Zuni Indian jewelry is taking center stage on a new website dedicated to the wondrous origins and history of the pieces.
"In the grand scheme of things, Zuni Indian jewelry hasn't been in existence for very long," said WholesaleZuniJewelry.com spokesperson Jennifer Farmer. "However, the jewelry has made a sizeable and profound impact on society in that period of time."
The new website features essays telling the history of items such as Zuni turquoise jewelry, Zuni inlay jewelry and Zuni pueblo jewelry. These essays are accompanied by stunning, high-quality photos of each item.
"The Zuni people go to painstaking lengths to create their jewelry," said Farmer. "It's our hope that the new site provides a glimpse into what it takes to make these amazing and precious pieces."
Zuni turquoise jewelry comes in many different styles. Authentic Zuni turquoise jewelry pieces are some of the world's most sought after hand-crafted collectable pieces of Native American work. The unique necklaces, bracelets, earrings, pendants, pins and rings are made with Chrysocolla, Coral, Denim Lapis, Gold Lip Mother of Pearl, Orange Spiny Oyster, Jet, Spiny Oyster, Sterling Silver and Turquoise using techniques honed over generations.
"There are many imitators but there is no substitute for the real deal," said Farmer. "The new site also helps visitors to identify what is true and fake wholesale Zuni jewelry."
For more information on wholesale Zuni Indian jewelry, please visit WholesaleZuniJewelry.com.