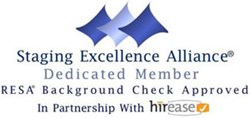 The ability now to take the class when I have time, and where I want it is wonderful.
Los Angeles, CA (PRWEB) August 31, 2013
Los Angeles, CA, (Press Release 31 August 2013 – Kim Kapellusch, President and Founder, The Academy of Home Staging is thrilled to announce continued expansion of The Academy's offerings to ensure it can meet the needs of all prospective students.
The new 'private' classes will be 4 full days of class with the instructor for that city, Michelle Lynn from Dallas and Mary Ellen Fortier in Tampa Bay. Students can schedule a private class for themselves one on one with the instructor, or others may want to schedule a private class for a small team. The instructors will interview / discuss with the potential student their goals and will be able to adjust the curriculum to meet their needs during a private session.
Michelle Lynn of of 'by Michelle Lynne' leads one of the most successful Home Staging and Design businesses in the Dallas area. Michelle is an Advanced Certified Home Stager and Redesign Consultant; Certified Home Staging and Redesign Trainer and a Member of the Real Estate Staging Association. Michelle Lynne currently oversees a staff of five stagers and a warehouse full of inventory. She enjoys sharing her business acumen, sense of humor and experience in the staging industry and has found her niche as an instructor for the Academy of Home Staging.
Mary Ellen Fortier, Founder and President of 'Decorative Interiors by Mary Ellen'' brings her knowledge of interior design, home building and staging, leadership, business acumen and public speaking skills to her class rooms. Mary Ellen is a natural mentor and enjoys working one on one with her students, for this reason it was a natural addition to her class load to add 'private classes'. Mary Ellen is a member of her Local Board of Realtors, Women's Council of Realtors, RESA, RESA-PRO, Manatee Chamber of Commerce and Anna Maria Chamber of Commerce. Additionally, Mary Ellen is very involved in the local American Diabetes Chapter in her area to help raise funds and support putting on fund raising events.
The Academy of Home Staging offers the most advanced and complete training for students, and provides a 30 day 'start your business' plan allowing students to quickly get into this exciting and rapidly growing field.
The Academy of Home Staging offers industry leading training that is unmatched by other Home Staging Training courses. Several key factors set The Academy's training program apart from the rest:

The only Advanced Home Staging Certification available.
All our Advanced Certified instructors are leaders in the Staging Industry who incorporate real life examples, suggestions, advice and ideas in each training class.
Several hands-on and in-field exercises
Student discovery and questions are encouraged in every session.
Complete Business CD for each student upon successful completion of the class, and passing the Certification exam at the end of the class.
Committed to the success of every student that comes to The Academy of Home Staging. Ongoing education, regular Alumni newsletters chock full of new information and tips and access to one-on-one coaching.
Interested students should call 1-800-574-5576 today to discuss location and timing that they would like to schedule a private class. Students will then be followed up with the instructor from that area they wish to have their private class. Through a couple of conversations the instructor will be able to make an adjustments needed to meet the needs of the students in the private class.
ABOUT THE ACADEMY OF HOME STAGING: The Academy of Home Staging was founded by Kim Kapellusch in 2005 in the Los Angeles area, and has quickly become the Industries' premier Home Staging and Redesign Certification Training Program. Today The Academy operates in California; Dallas, TX; New York City, NY; Seattle, WA; Tampa Bay Area, FL; and Washington, DC. In addition to its leading classroom certification classes The Academy offers a full CD based course, ongoing education and one-on-one business counseling.
For more information call 1.800.574.5576 or visit http://www.TheAcademyOfHomeStaging.com.