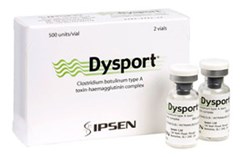 I strive to give more value for the money and keep my patients happy with results
Boston, MA (PRWEB) August 31, 2013
It took several patients in a row complaining that Botox didn't last as long as before for Masha Banar, PA-C, owner of Visage Sculpture Cosmetic Clinic of Boston, to look into better alternatives for her customers. "I strive to give more value for the money and keep my patients happy with results" says Masha. The most challenging case was treating the masseter muscle in a petite patient with Botox for several times only to find out the muscle had full bulk and function. Dysport has fixed the problem quickly for that patient to confirm she has developed resistance to Botox (recent study on resistance to Botox). Dysport is the same strand of Botulinum toxin as Botox (type A), the difference is that the particles are smaller and it has fewer proteins that sensitize immune system. It works faster, lasts several weeks longer, and has less potential to trigger resistance. Over 300 of Masha's patients have been treated with Dysport to date to confirm all the advantages of this product over Botox.
About Visage Sculpture
Visage Sculpture is premier Cosmetic Center dedicated to helping people look and feel more attractive, refreshed, and youthful in the most natural gentle way. Founded by Masha Banar, Board Certified Physician Associate, with more than a decade of experience in Plastic and Reconstructive Surgery, it has been featured on ABC News for its unique alternatives to surgical procedures.
Masha is a National Educator for Sculptra Aesthetic and teaches facial anatomy and injection techniques to Physicians and Nurses. Her extensive experience combined with artistic background and intuitive appreciation of proportions of the face brings ease to all procedures offered.
Complimentary consultation can be scheduled by calling at (617)501-7055 or via e-mail. Office is located at 31 Channing Street, Newton Corner, MA 02458.