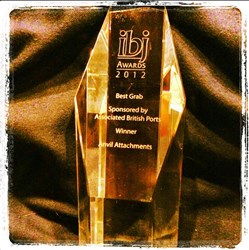 The IBJ Awards salute achievements in the maritime bulk industry.
Slaughter, LA (PRWEB) August 31, 2013
Coming off of their win of the 2012 International Bulk Journal award for Best Grab, Anvil Attachments continues to receive international notoriety. Anvil has been nominated and has qualified for the final shortlist in two categories of the 2013 International Bulk Journal awards. The two categories Anvil has made the final shortlist are People Development and Best Grab.
Anvil was nominated for People Development for the outstanding work they do with the schools in East Feliciana Parish. Anvil provides leadership, curriculum guidance, resources and more to the local high schools and trade schools in an attempt to improve the quality of skilled craftsmen and women in the parish. Anvil's competition in this category includes Abu Dhabi Ports Company from United Arab Emirates, GAC from United Arab Emirates and Liebherr from Austria. The People development award is judged on how entrants have improved the training of staff by identifying need and implementing schemes. The measurable outcome of training and its contribution to business success should be demonstrated. This award will position the winner as being forward-thinking through commitment to investing in its people operating in the bulk shipping or cargo handling business.
In the Best Grab category, Anvil was nominated for their line of Diesel Hydraulic grabs. This includes both their Diesel Hydraulic buckets and Diesel Hydraulic grapples. Anvils competition in the Best Grab category include Shanghai Janus Grab Company from China, SMAG (Peiner) from Germany and Verstegen from the Netherlands. The Best Grab category is judged on entrants who consistently meet customer requirements for operationally efficient, cost-effective grabs. Aware that grabs should ideally be adapted to each bulk commodity, judges will look for the use of quality material in manufacture and innovative design in minimizing environmental damage. Customers have commented that Anvils Diesel Hydraulic line is up to 50% more efficient than traditional Single Line grabs. Anvil Diesel Grab line is completely modular; the buckets feature interchangeable bowls so customers can easily adapt to what materials they are moving. They are totally self-contained and powered by fuel efficient diesel engines.
The IBJ Awards salute achievements in the maritime bulk industry. Winners will be announced on the big night in November, this year at the historic Salle Wagram in the heart of Paris, further confirming the IBJ Awards' position as the maritime bulk industry's "Night of the Year."
Anvil Attachments is the premier manufacturer of bulk material handling attachments. They offer the most diverse product line in the industry, including hydraulic and cable clamshell buckets and hydraulic and cable grapples, electro hydraulic and diesel hydraulic buckets and grapples.