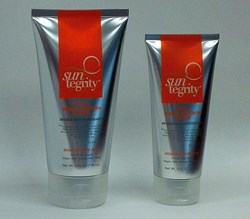 "Not only are we excited to offer our customers a larger size mineral sunscreen for the body, but we are thrilled to introduce it in chic new metallic packaging." said Suntegrity's Founder Tricia Trimble
Marina del Rey, CA (PRWEB) August 31, 2013
With skin cancer on the rise, sunscreen is not a luxury to be worn on a special sunny occasion, it's a necessity to be worn daily. For that reason, Suntegrity created a larger 5 oz size of their award winning mineral body sunscreen. "Not only are we excited to offer our customers a larger size mineral body sunscreen, but we are thrilled to introduce it in chic metallic packaging," said Suntegrity's Founder Tricia Trimble.
This healthy, mineral sunscreen was featured in the "Best Sunscreens" Category with a #1 Rating in the EWG's 2011, 2012, & 2013 Sunscreen Guides.
Suntegrity's SPF 30 Natural Mineral Sunscreen for the Body offers broad-spectrum protection and is free of harsh chemicals like parabens, phthalates, propylene glycol, mineral oil, synthetic dyes, sulfates, nanoparticles and chemical UV absorbers. This non-greasy formula contains 20% non-nano, uncoated zinc-oxide for therapeutic broad-spectrum protection against the sun's harmful UVA and UVB rays. Additionally, it contains Organic Ingredients like Green Tea Extract, Cucumber Extract, and Pomegranate Seed Oil for added protection and it has a light, uplifting citrus scent.
About Suntegrity:
Suntegrity Skincare is a natural, healthy and holistic sunscreen line developed by Tricia Trimble after losing her mother to melanoma skin cancer. Suntegrity sunscreens use only the best known physical/mineral sunscreen ingredient (non-nano size zinc oxide) to provide Broad Spectrum UVA/UVB SPF30 protection, along with youth-promoting antioxidants to help with skin repair. For more information, visit http://www.SuntegritySkincare.com.